The 2023 Wimbledon event will run from 3rd – 16th July and as in keeping with a long-standing tradition, the presentation of the men's and women's singles trophies will be made by a royal representative, which will likely be The Duchess of Cambridge for the fifth year.
Fun Fact: The Duchess is a huge tennis fan and is the royal patron of the All England Lawn Tennis Club, taking over patronage from Queen Elizabeth in 2016. We also know that the chic royal is an active member of The Hurlingham Club in Fulham where she is said to take Prince George, Princess Charlotte and Prince Louis for hitting sessions during the school holidays. Something tells us they may not have had to endure the club's 30 year waiting list…
But, back to Wimbledon, the reason we are here! Whether you're sat in the crowd, immersed in the comradery at Henman Hill or perched peacefully by the TV, you can look forward to enjoying the following order-of-play:
Wimbledon 2023 Schedule
Mon 3rd July – Men's and Ladies' Singles 1st Round
Tue 4th July – Men's and Ladies' Singles 1st Round
Wed 5th July – Men's and Ladies' Singles 2nd Round
Thu 6th July – Men's and Ladies' Singles 2nd Round
Fri 7th July – Men's and Ladies' Singles 3rd Round
Sat 8th July – Men's and Ladies' Singles 3rd Round
Sun 9th July – Men's and Ladies' Singles 3rd Round
Mon 10th July – Men's and Ladies' Singles 4th Round
Tue 11th July – 1 Men's and 1 Ladies' Singles Quarter-Finals
Wed 12th July – 1 Men's and 1 Ladies' Singles Quarter-Finals
Thu 13th July – Ladies' Singles Semi-Finals
Fri 14th July – Men's Singles Semi-Finals
Sat 15th July – Ladies' Singles Final, Men's Doubles Final & Ladies' Doubles Final
Sun 16th July- Men's Singles Final & Mixed Doubles Final
If all this tennis talk is whetting your appetite for a day of spectating, read on. We have tickets available to our members. Prices fluctuate and generally rise periodically as the tournament approaches.  
Wimbledon 2023: Tournament Prediction
Our in-house tennis journalist, Kevin Palmer has this to say about his pick for the 2023 tournament:
Can anyone stop Novak Djokovic at Wimbledon? The Serbian superstar will be aiming to match Roger Federer's record of eight titles when he returns to the most famous tennis court in the world this summer. And by then, he will be marking a remarkable ten years since his last defeat on Wimbledon's Centre Court. Djokovic is unbeaten on the most hallowed grass court of them all since Andy Murray beat him in the 2013 Wimbledon final, with his only defeats at Wimbledon since then coming against Sam Querrey in 2016.
Since then, Djokovic has been dominant at Wimbledon and may well be on course to become the most successful male player in history at the most cherished tournament in tennis. Federer is the only player to win more Wimbledon singles titles than Djokovic and he may even be eying up overtaking Martina Navratilova's all-time record of nine singles titles at Wimbledon.
The identity of the players likely to challenge Djokovic in the next two or three years on grass may have a different look as a clutch of young guns come through the ranks hungry to end his reign.
Nick Kyrgios will be eager to go on better after he pushed Djokovic in last year's Wimbledon final but look out for the rising stars of the game to test the Serbian legend. The only way to beat Djokovic on a grass court is to take the match out of his control and that means overpowering him with big hitting ground shots and serves, with young guns Denmark's Holger Rune and America's Sebastian Korda assembling the firepower to possibly do just that.
Carlos Alcaraz is another player to watch if he can find his feet on grass, although the Spaniard is more likely to threaten Djokovic on his favoured clay courts. And could there be one final showdown between Rafael Nadal and Djokovic at Wimbledon? Nadal has not beaten Djokovic on grass since 2008 at The Queen's Club in London; losing all of their most recent meetings at Wimbledon.
Djokovic would be a heavy favourite to beat an ailing Nadal if they meet in London in July, but what a mouth-watering prospect that would be. In truth, it is hard to see anyone dethroning Djokovic when he gets back onto the Centre Court, he has made his own. Injury or an unexpected dip in form may be the only hope for the chasing pack. 
Where to Stay During Wimbledon
Members of the All Court Tennis Club are well acquainted with this London institution, mainly for its elegant interior, lavish rooms and central location. St. James Mayfair is an idyllic haven for some well-deserved respite after a long day at the AELTC in London's July heat. After popping back to the room for a quick re-fresh and 40-winks, we tend to make our way towards any of the following for an evening of cocktails, fine dining and a tournament run-down to wrap up the day. What a life, ey?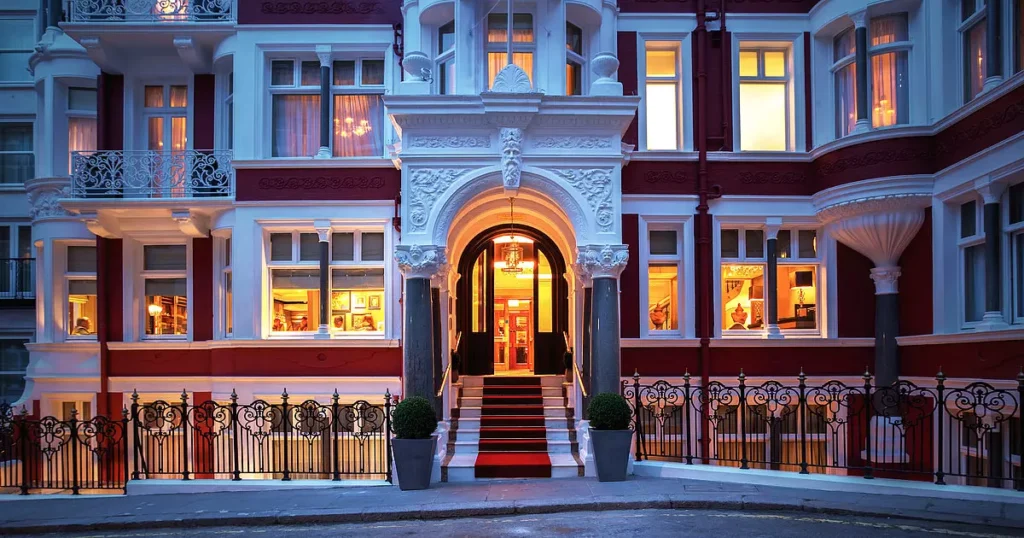 Oh, and make sure to avail of the All Court Tennis Club's generous 10% discount that runs between May and August, along with complimentary continental breakfast. We won't make any money from this, we just want to ensure you're well taken care of in our HQ city! I'll Take It
Where to Eat and Drink in London During Wimbledon
INCA – INCA is an upscale Latin American inspired restaurant well known on the West London circuit for its tasty share plates. Expect stylish and colourful surrounds with a side of live singing and dancing.
Amazonico – Amazonico is an upscale dining experience offering up an exciting fusion of Latin American and Spanish cuisines. The restaurant is renowned for its creative take on a classic tapas style menu.
Mr Fogg's – Mr Fogg's has a special place in the heart of All Court Tennis Club members as the go to for any of our London events. The reason being is that club member Duncan Sterling birthed and has grown what is now a successful Victorian-style gastropub offering a rich mahogany bar, ornate furniture and dark leather seating. The menu features traditional British dishes, such as fish and chips, steak pie, and a classic English roast. This one is a must if you are visiting from across the pond.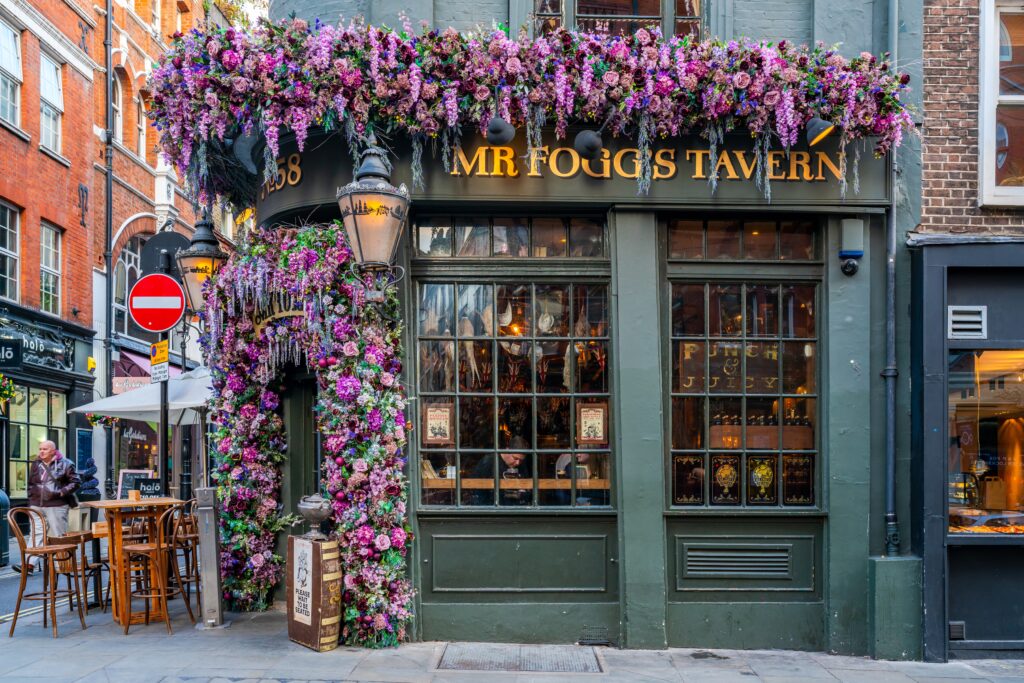 Sexy Fish – This trendy Mayfair hotspot serves up some of the best seafood and sushi in the city. Not for the faint hearted, this spot is renowned for dimming the lights and turning into a glorified nightclub after hours.
Cecconis – Cecconi's is a much-loved Italian spot owned by the Soho House group and by the tasteful interiors and elegant clientele, you would certainly know it. While measured and sophisticated in all the right places, this Venetian pizza pasta joint bears all the charm you would hope for from your favourite neighbourhood Italian.
Dukes Hotel – it's where Ian Fleming came up with the legendary Vespa Martini and it still makes the best of the drink in the city. Experts in old school service, this restaurant will roll-up a drinks cart to your table so you can examine the mixologists at work.
All Court Tennis Club Transport Tips 
One thing you can bet on in London is the sophisticated tube system operating a prompt and timely option for navigating your way around the city. The District Line (the green one!) is the route you will likely encounter if the tube is your nominated method of transport to Wimbledon. The closest station to the club is Southfields, and once you've hopped off, it will take you about 15 – 20 minutes on foot.  Alternatively you can hop off at Wimbledon station, it's the next closest station with just a  slightly longer walk.
You can find the AELTC's advice on getting to the club here.
For the carbon footprint conscious, there's a plethora of transport options. The city's Santander Bikes are super cheap and easy to access, with over 12,000 bikes at 800 docking stations around the city, and 10 in Wimbledon alone. Check out their website for more detail.
The city also offers a vast range of non-dock e-scooters from Uber, Lime and Tier. If you are time-poor and inpatient in the traffic (guilty…) this option may work for you.
A traditional London cab is never be too far away. If thumbing a lift doesn't work, try out Free Now or TaxiApp. And, for something a little more luxurious, Uber or Wheely will do the trick.
Tickets to Wimbledon with the All Court Tennis Club
Yes, yes, we are getting there! Wimbledon tickets. Want to come along? We thought so.
The All Court Tennis Club are taking on the best grass tournament of all time in SW London this summer, and we want you to join us. Former UK singles no.1 and British broadcaster Andrew Castle will host members on 5th July in a private champagne breakfast at The Ivy in Wimbledon village. We also have tickets to the tournament and can concierge a ticket only or hospitality package entirely based on your needs. Just let us know what you are looking for and our in-house concierge team can help out.
Play Tennis in London During Wimbledon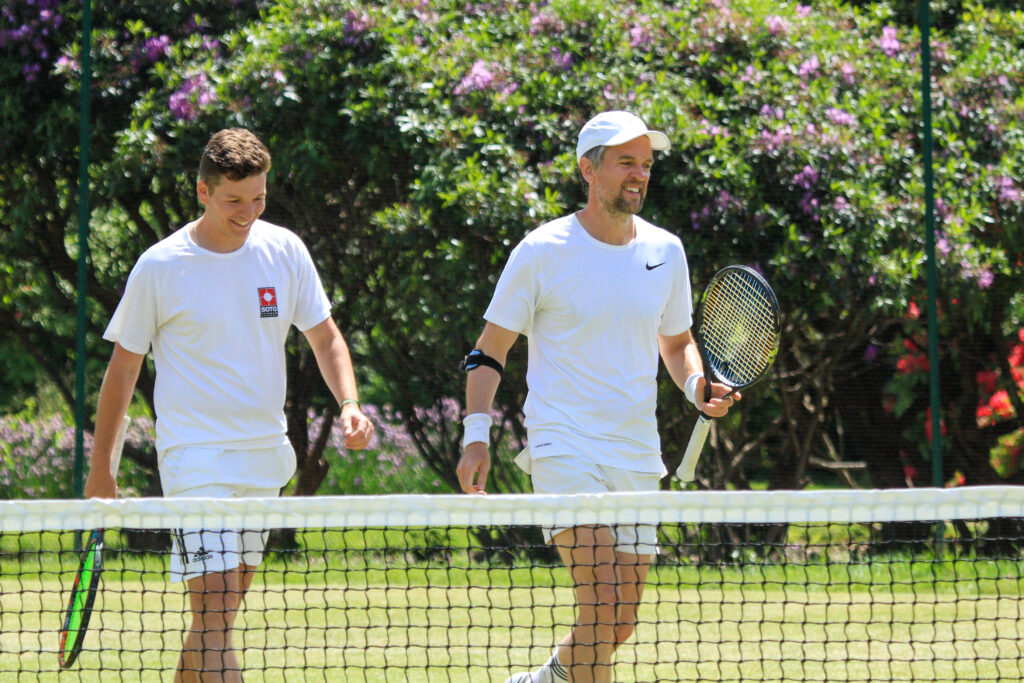 We have a large network of London based members, hitters and ambassadors who we would love to pair you up with for a well-rounded weekend of tennis in the English capital. Some holding membership to the likes of Hurlingham, Campden Hill, Queens and Holland Park, just get in touch with our team to let us know and we can find you the perfect hitting partner.