Two weeks before the famed Championships at the All-England Lawn Tennis Club (AELTC) signs of the upcoming event amidst the normally sleepy village start to emerge: American Express signs boasting all the privileges of membership appear; green-and-purple bunting pops up along the streetlamps; and out of nowhere, wooden racquets and vintage whites start to appear in storefronts everywhere.
As the first yellow Slazenger ball is served and returned on the grass, more than 70 businesses in Wimbledon are vying for a prize in the annual Wimbledon Village Tennis Windows competition . Founded in 2013 by Kimberley Salmassian, a onetime boutique owner who noticed the lack of visitors to shops during the tournament, now every year the community battles it out for various prizes while "championing their own niche business services with verbal and visual puns," according to Salmassian. There are few rules — "businesses don't need to have tennis racquets and balls in their windows," Salmassian says — and most interpretations and riffs on the Wimbledon tennis theme (purple and green colours, strawberries and cream, the all-white clothing) are allowed. In the past, these have included a window painting of a John McEnroe Cartoon saying "You can't be serious,"; an anatomical skeleton donning umpire's regalia and juggling balls; a mannequin in barrister robe and wig behind a sign "See You in Court"; and many Thai buddhas holding balls.
Salmassian chooses ten judges from all walks of life to score each participating business according to innovation, creativity, effort and humour, then submit their top 10. Past prizes have included Centre Court tickets, dinner for two at The Ivy, luxury food and champagne hampers from Fortnum & Mason and others, beauty treatments, personal training sessions and wine-tasting experiences. "The AELTC has taken more and more of an interest with every year and even the players, too — of course they all love the Thai food," Salmassian says. "We've just only come back from the Covid hangover, but we're hitting our stride again."
Family Treatment Centre: The top prize winner in 2022 and second place in 2021, Family Treatment Centre comes back as strong as Djokovic in the 2023 Wimbledon Windows competition. This year, the mental health clinic received help for its "Love All" theme from Warren Bushaway, aka the "Banksy of Flowers." Bushaway put a player in a vintage bi-plane trailing a plume of flowers, balls, rackets, strawberries and cream cartons.
Cancer Research UK: Last year, Gen-Xers and Baby Boomers loved Cancer Research UK's "That 70s Show" tribute, which used charity contributions to dress models as icons Billie Jean King, Bjorn Borg and Chris Evert. For 2023, the charity has dug even deeper to appeal to those from the Greatest Generation by pulling out the long white skirts and woollen slacks, wooden racquets and fine China, showing off the depth of its patrons' collections.
Hemingway's: A perennial favourite for its humorous painted windows, for 2023, the popular post-Wimbledon drink spot highlighted the male and female champions of the past ten years (including many caricatures of Djokovic) toasting their good fortune and drinking champagne (except for Djokovic, who is gluten-free). In 2022, Hemingway's won second place for its cartoons of Dolly (Volley) Parton and Elton (the Racket Man) John.
Thai Tao:
Nordic Balance: Nordic Balance physiotherapy clinic, an anatomical skeleton, dressed in umpire's regalia, juggles balls in front of two enormous polystyrene rackets. Talk about a labour of love (that word again): co-owner Joanne Meyer, ordered special tools from eBay for the job and spent three weeks in the clinic basement crafting the rackets with their immaculate strings.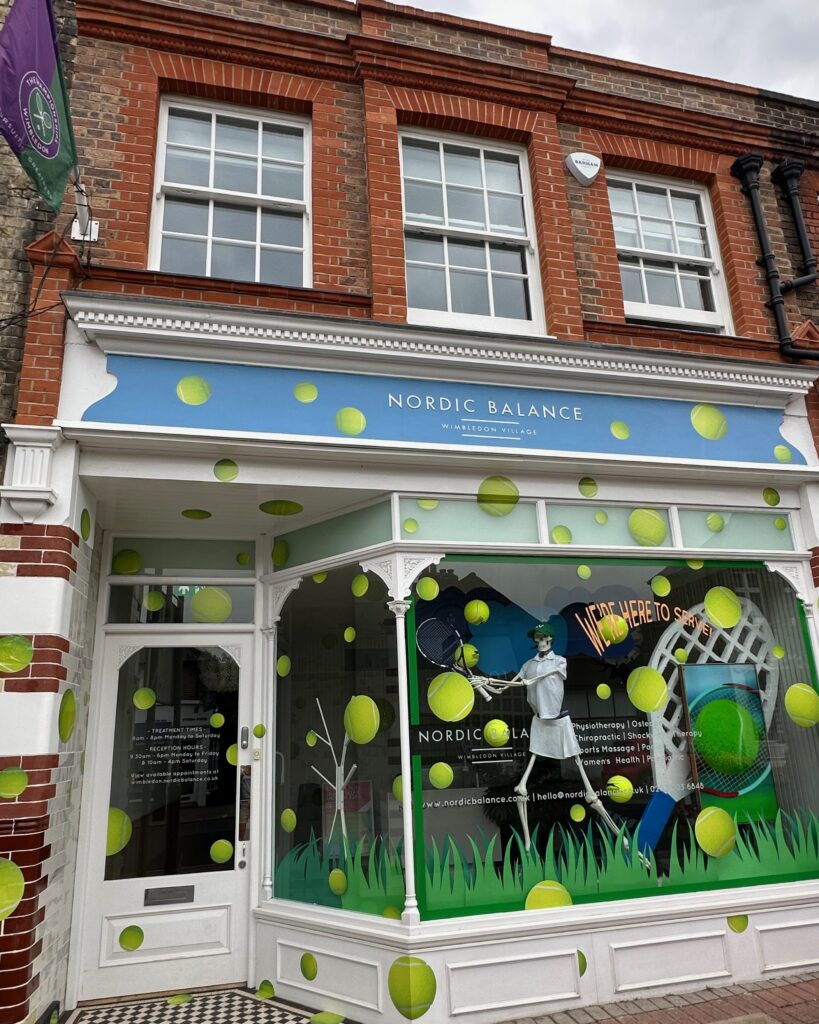 Rose and Crown: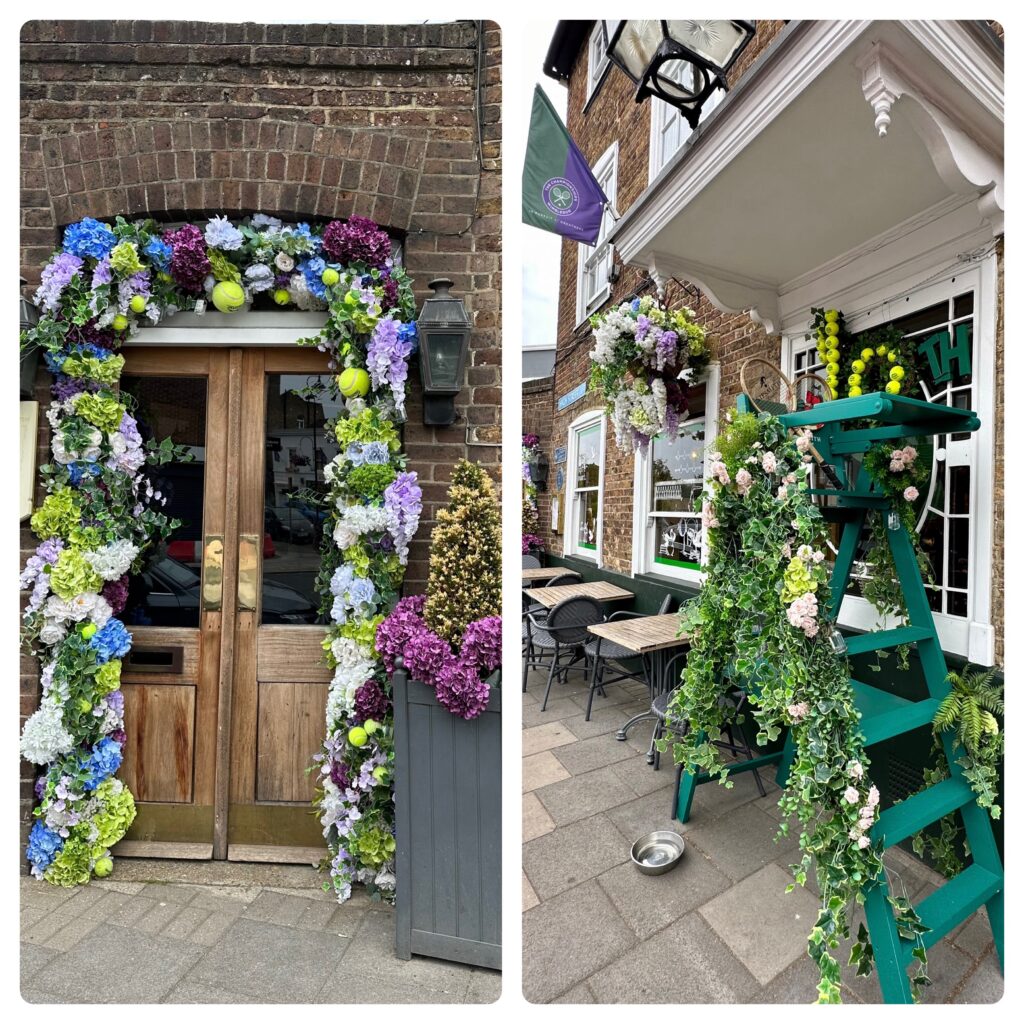 Michael Platt Jewellery: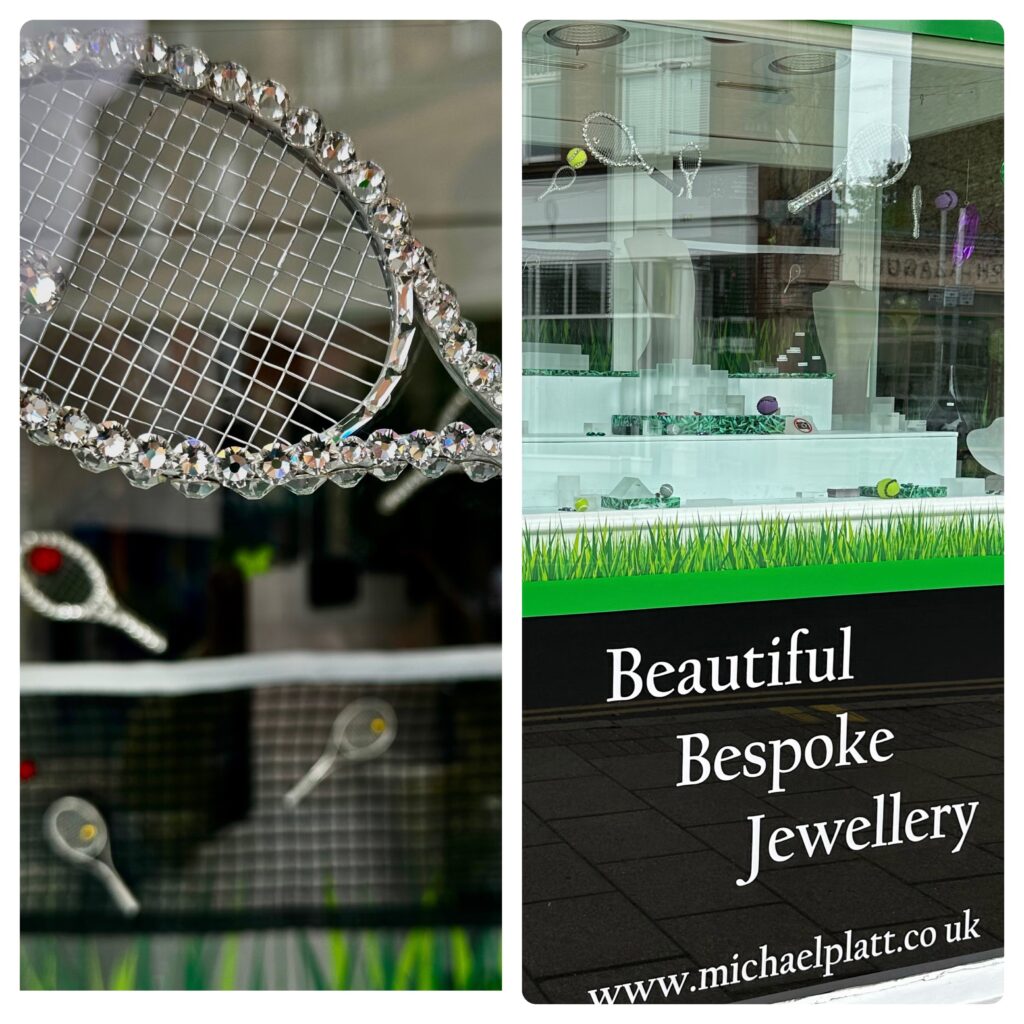 Wimbledon Books: Wimbledon Bookshop has a miniature contest featuring rubber ducks dressed up as Novak Duckovic and Andre Eggessi.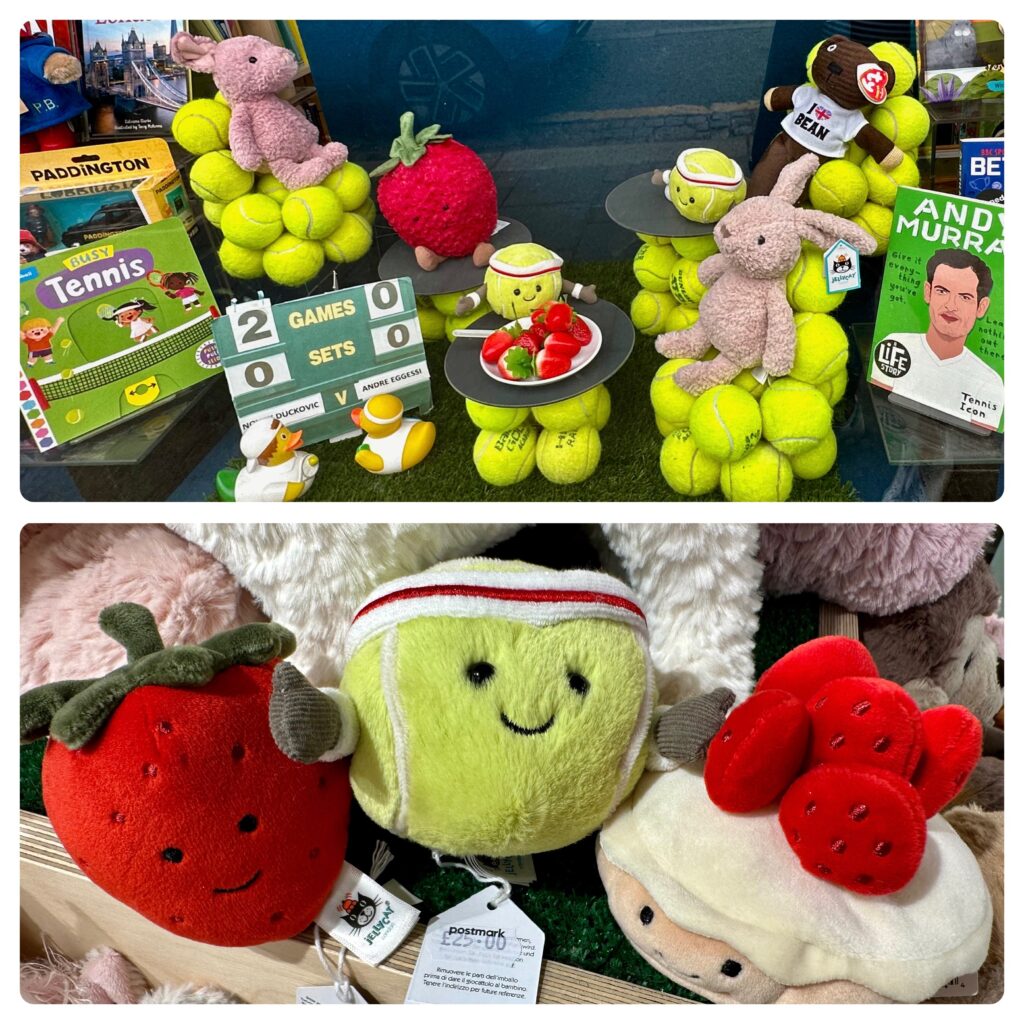 Oxfam: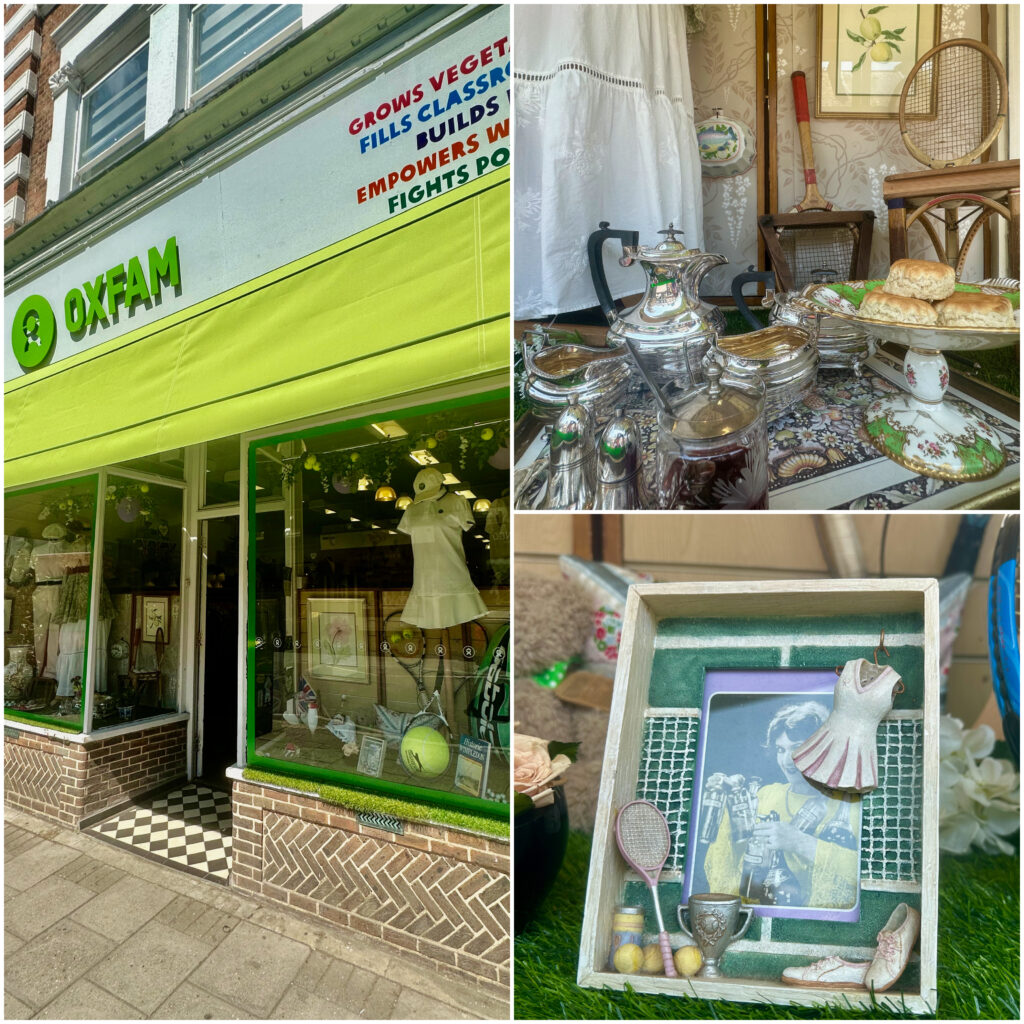 Deborah Beaumont Interiors: