As Roland Garros fast approaches, the tennis world prepares for the notable absence of Rafael Nadal who will be missing from the tournament for the first time in 18 years. However, the stage looks set for an electrifying clash between the formidable Novak Djokovic (3) and the rapidly emerging, Carlos Alcaraz (1); igniting a palpable excitement among tennis enthusiasts, leaving them with every reason to savour the upcoming tournament. Throw into the mix Russia's Daniil Medvedev (2) and Andrey Rublev (7) Scandinavia's Casper Ruud (4) and Holger Rune (6) North American Taylor Fritz and Felix Auger-Aliassime (10) and the proud Greek, Mr. Stefanos Tsitsipas (5) and you've concocted a top-10 tennis delight, despite missing the King of Clay.
It's time to pack your Louis Vuitton keep-all and head to Paris.  Whether you're negotiating the Arc de Triomphe in a hire car, easing into the vibrant and buzzing Gare du Nord (ah, the calm of rail travel) or touching down at Charles de Gaulle Airport  (mind the 'peripherique' congestion on the way in), you'll be glad you took the trip to the beguiling city of lights. Dump your luggage with the porter and grab the latest issue of Le Monde, relaxing in one of the city's charming cafes, hot coffee in hand. Not for long though, it's time to hop on a Dott electric bike with the city's 16th Arrondissement in your sights and the iconic tournament stadium beckoning you forward.  It's Roland Garros time!
Insider travel tip: Paris traffic can be prodigious, and our London HQ team has always been impressed with the efficiency of the motorbike taxis in Paris.  We often use this company: Motocab. Check out our Instagram reel for a real-life example.
The All Court Tennis Club partners with the prestigious and historic Tennis Club de Paris where our Paris Ambassador and former France No.36, Antoine Benneteau regularly frequents with our members.  Here's an idea! How about playing with Antoine at the club on Saturday 27 May, right before the first day of the main draw! Drop shot your email in below and we'll set you up.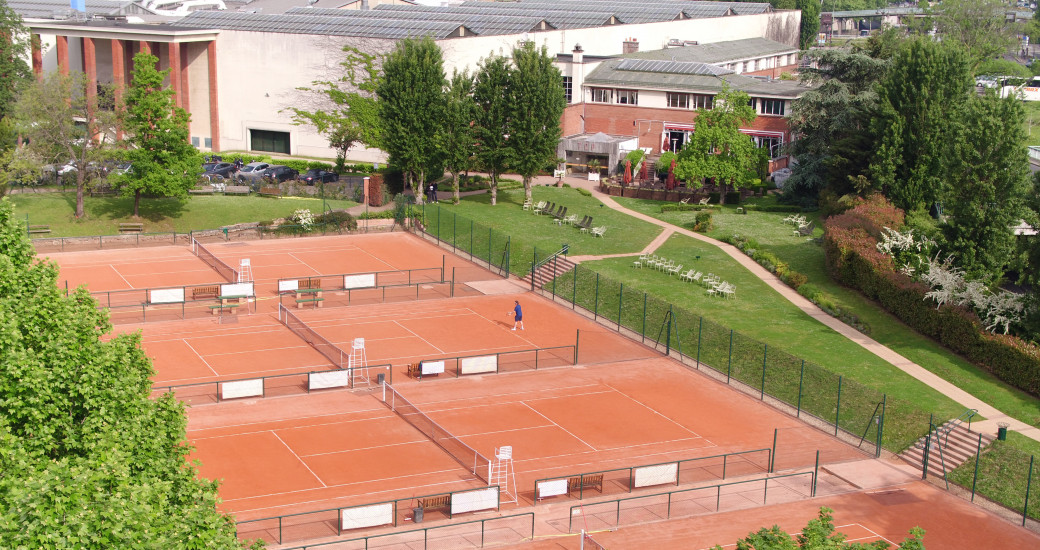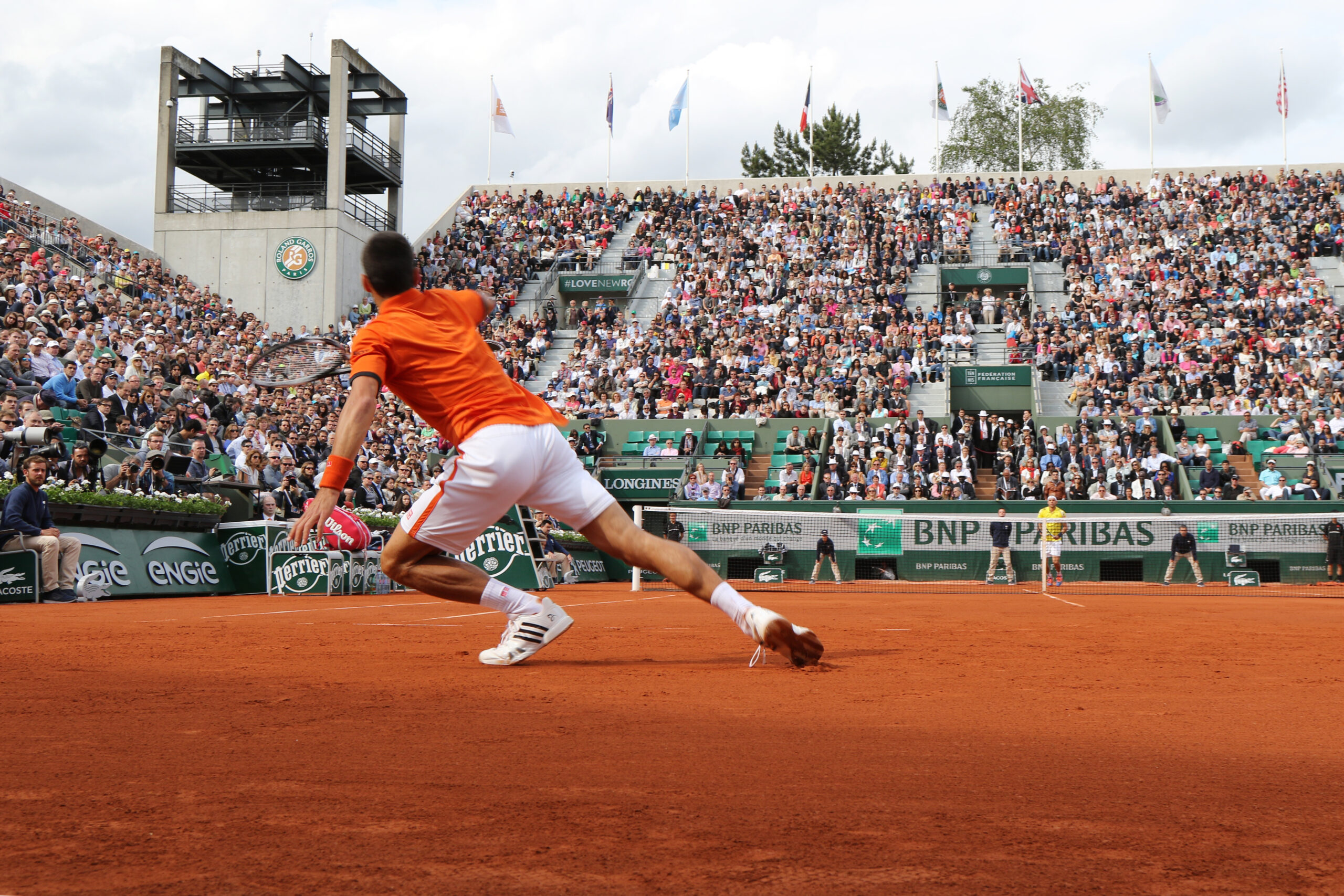 To enter the Tennis Club de Paris, is to enter "one of the cradles of French tennis." Founded in 1895, the TCP is one of a few clubs remaining that has always welcomed and brought together champions and fans of the yellow ball in France. After a makeover in recent years, the TCP now has 18 courts (a mix of indoor and outdoor clay and hardcourt, two newly minted Padel courts, as well as a clubhouse, bar, proshop "with fast rope service," a mini-tennis court, and, of course, a training wall. Oh, and don't forget the swimming pool – bring your oversized sunglasses to fit in!
Can we you get tickets to this red clay bucket list event? You bet. We've got just a few tickets left for our world-famous Play & Watch event, which sees members enjoy a two-day immersive tennis experience with a tennis masterclass at TCP on Saturday 27 May followed by a full day of hospitality and spectating at Roland Garros on Sunday 28 May . You can secure those below:
We also have a ticket-only option for Sunday, if you'd like to come along and watch the tournament with the All Court Tennis Club, in prime-seats overlooking Court Philippe Chatrier.
You can secure those below:
Although most days at this event are sold-out, our ticketing concierge has deep networks to make sure our guests have the ultimate tennis experience. If you're interested in procuring tickets for this incredible tournament in the French capital on any of the days during the tournament's duration, please simply serve up the basic details below:
Roland Garros is the only Grand Slam tennis complex not named for a tennis player. Built in a mad rush in 1928 at the urging of the four mousquetaires, they needed a stadium that would befit a Davis Cup match and with the Stade Francais (rugby stadium) readily available for renovation, they acceded to the wishes of Emile Lesueur, Stade Francais president of the at the time, who was a friend and former classmate of the well-regarded World War I aviator and deceased hero, Roland Garros. Italian sculptor Vito Tongiani made bronze statues of the musketeers in the 1980s and the early 1990s, which were situated around the ground for 30 years until the 2020 renovations. Now, fans can see them in the Musketeers Garden, then enjoy a lie-down in one of the large orange deck chairs while watching the action on a big-screen television which this year will include a mass return of some of the top women's players as Elina Svitolina (27) enters the draws following the birth of her first child, and Anastasia Pavlyuchenkova (21), the 2021 runner-up, as well as Jennifer Brady, who will return from injury.
Shakespeare and Company: When not raiding the rather large La Boutique Officielle Roland Garros for towels, trinkets and the latest in Lacoste, there are quite a few shops in Paris that will gladly take your hard-earned euros. This famous bookstore, which also doubles as the "Tumbleweed Hotel" for traveling writers, was opened in 1951 by an American George Whitman who had great hopes of creating a literary hub in the heart of the City of Lights. Whitman's daughter, Sylvia has now taken over the day-to-day management of the store, and the Tumbleweed tradition still lives on with as many as 40,000 people having slept in the shop over the years. Regular activities that occur in the bookshop are afternoon tea, poetry readings, writers' meetings — and, as always, the selling of new and used books.
Officine Universelle Buly: When he isn't making candles or redesigning something spectacular, Moroccan-French wunderkind Ramdane Touhami, a former co-owner of Cire Trudon — the French luxury candle manufacturer  — is busy at his three-year-old luxury cosmetics company. The 2,000-square-foot space in the Marais district includes a 19th-century-style boutique selling the Buly brand's early 19th century aromatic potions, powders, soaps and perfumes. The range of exquisitely packaged, paraben-free products also include oils, creams, and the world's largest collection of combs, as well as sponges, moisturisers and crystals sourced from Morocco.
For the historic shopping district, head over to the Haussmann-Opera-Saint-Lazare quarter. The obvious place to start is Galeries Lafayette, arguably Paris' premier shopping centre (and a space to seek shelter if it's raining or if you don't feel like queuing for a museum or gallery.)
For something more eclectic, try the unique atmosphere in the Martyrs district in Pigalle at the foot of Montmartre Hill. The shops reflect the quirkiness of the residents, with little designer shops, vintage boutiques and other hidden gems where you can acquire something that the more traditional tourist won't.  If you want the total Pigalle experience, stay at the hip Le Pigalle hotel, just around the bend from Moulin Rouge.  
At the other end of the spectrum, you can do your best Pretty Woman shopping spree impression in the 'golden triangle' of shopping district of Paris. Located between Avenue des Champs-Elysées, Avenue Montaigne and Avenue George V, is one of the most stylish areas in Paris, where grand fashion houses have their worldwide flagship stores, such as Louis Vuitton, Chloe, Dior, Hermes and Yves Saint Laurent.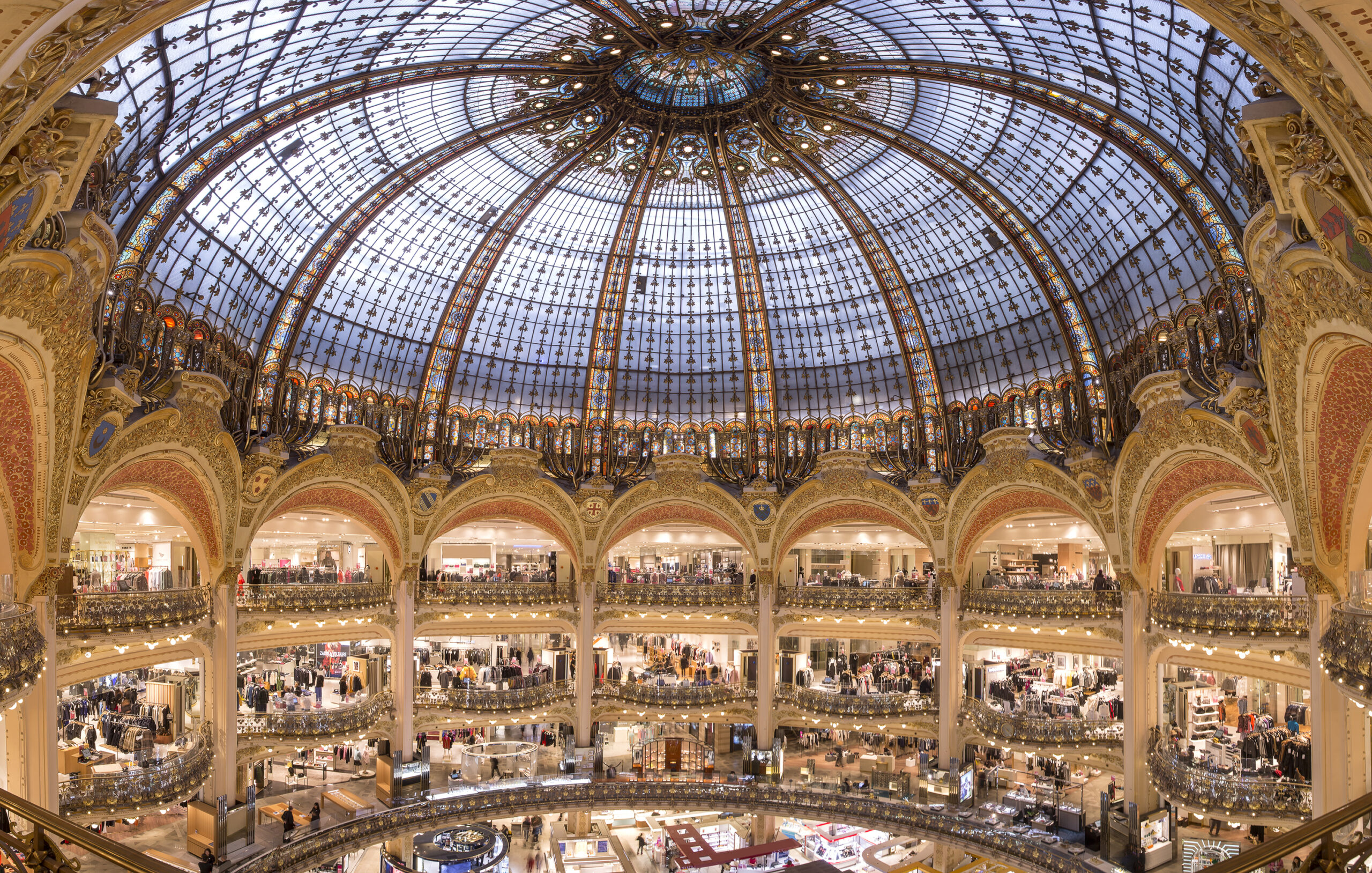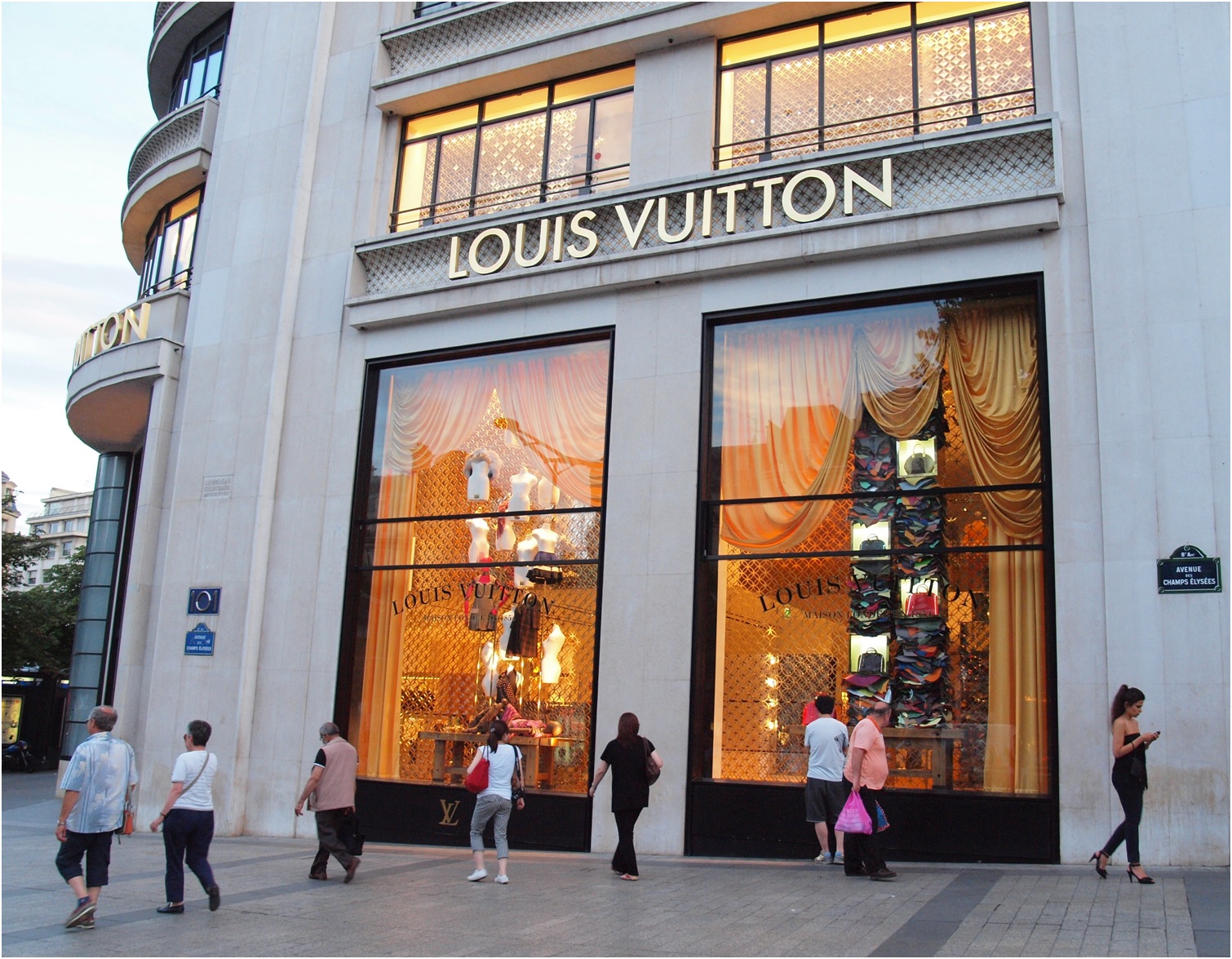 Les Papilles: A market by day, a restaurant by night, this deli/bistro offers a rotating menu of fish, lamb, beef and farm-fresh vegetables, complemented by the finest wines. For parties of 15 or more, it also has a large communal table with a large-screen TV for those special sporting events, such as the World Cup, the Euros — or Roland Garros. But make reservations. Every day at noon and sundown, Les Papilles offers a "return from the market" menu, allowing patrons to sample all of the region's best of everything, which is highly popular with both locals and tourists alike.
Bistrot Paul Bert: Despite old-school decor (chalkboard menu, mosaic tiles, white aproned waiters,) this classic French bistro opened at the turn of the 21st century. The maître d' greets patrons immediately with a "bonjour" and then a check of their giant reservation book. Locals say if you don't have a reservation, you should still stop by because sometimes, tourists get lucky — or get a bar seat for small plates and superb wine from La Cave Paul Bert down the street. The menu features traditional French — from seasonal plump white asparagus and the Côte de Boeuf for two (served medium-rare with the most perfect French fries) to tartare to signature yellow-as-the-sun egg served with shaved black truffles followed by a steaming-hot soufflé.
The All Court Tennis Club partners with a suite of spectacular hotels around the world, providing their members with unique benefits such as preferential rates and perks. If you'd like to become a complimentary member of the All Court Tennis Club (and we'd certainly like that!) visit our membership page here.
Edgar & Achille: Reclaiming a dilapidated workshop overlooking a little square with a garden, Guillaume Rouget-Luchaire summoned his family and friends to transform it into the boutique hotel, Edgar and Achille. Photographers, graphic designers, decorators, stylists and scenographers soon descended to re-create each room into their own personalised, quirky vision. Perfect for a solo vacationer or a couple on a romantic sojourn.
Maison Albar Hotels Le Pont-Neuf: After a long day of tennis, head back to Rue di Rivoli, at the centre of nearly everything in Paris, where guests can linger over the view of Parisian rooftops, catch some sun in the hotel's elegant courtyard or have a massage in the well-equipped Cinq Mondes spa. The rooms are modern and comfortable with antique mirrors, overstuffed chairs, large bathtubs and Art Deco finishes.
Hotel de l'Abbaye: Since its opening in the 70's, Hotel de l'Abbaye has been the best-kept secret in Saint-Germain-des-Prés. The 44 rooms and suites of this classic Parisian house overlook a hidden garden, housing a bar and restaurant where light meals can be enjoyed all day long.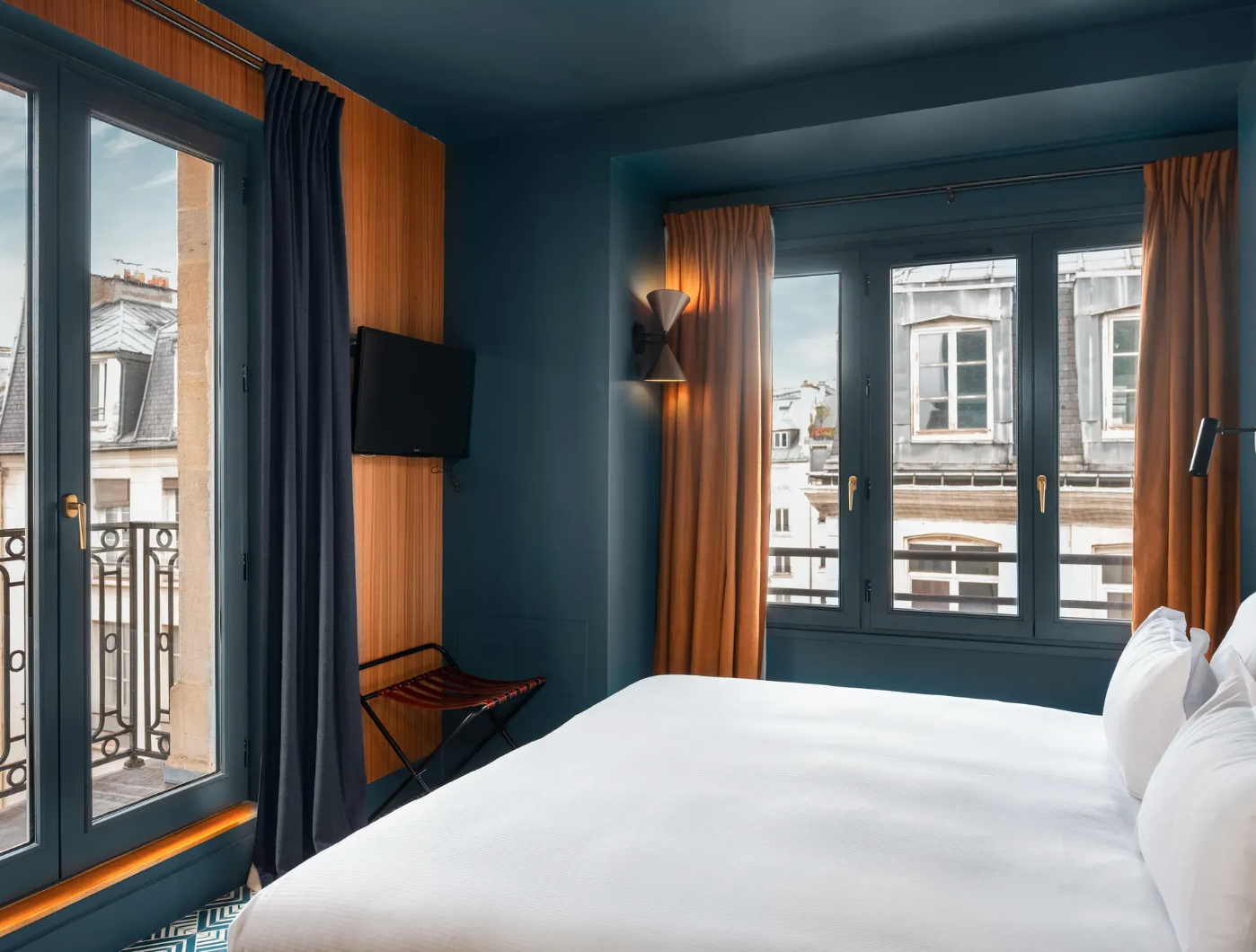 Our Founder, Adrian Calvert who regularly frequents the city had this to say
PARIS' LEFT BANK
Where to stay: In the St. Germain district at the lavish and opulent L'Hotel: a hotel with an underground private pool and a bar beloved by Paris' in-the-know. Fun Fact: Oscar Wilde penned his last lines at the hotel (he never paid his final bill, now displayed in Room 16.)
What to do: Wander the famed streets of St. Germain, strolling past Taschen's flagship store on Rue de Buci (full of traditional bars and cafes,) taking a right on Rue de Seine to stop at the hidden away corner bar for locals, La Palette. Keep this one a secret! If you're in the mood for art, carry on toward the river, take a left and make your way to the extensive Musee D'Orsay, making sure you lunch or dine nearby at our favourite post museum restaurant, Le Bistrot de Paris.
If you're still peckish, Brasserie Lipp on Boulevard Saint-Germain must be sampled, not least for its traditional pork and beans dish (while also revelling in a space that featured prominently in Ernest Hemmingway's 1964 memoir, A Moveable Feast.
PARIS' RIGHT BANK
Where to stay: A couple of the tres' chic hotels we love to revel in on the left bank are Hotel Costes and Hotel de Crillon. If you decide to lay your head elsewhere, both are still definitely worth a visit for the scene of the restaurant and bar, (Costes more lux rock n' roll and the Crillon, unabashedly French chic.)
What to do: A walk through the Jardin des Tuileries from the hotels will invigorate the spirit and lead you to the Louvre Museum to while away the afternoon in cultural splendour.  Stretch the legs or take one of the copious number of electric bikes along the river toward Notre-Dame Cathedral and cross over the famous Pont Neuf bridge for an Instagram worthy shot, marvelling at the wealth of padlocks of past and current lovers hanging from its railings.