Tennis royalty such as Novak Djokovic, Naomi Osaka, Serena Williams, Caroline Wozniacki and Anna Kournikova even own some of the city's priciest real estate to ensure they take full advantage of the sunshine state's ideal tennis training conditions year round.
From South Beach all the way over to the Key Biscayne, Miami has something for all of the Miamian amateurs and pro-players alike.
Miami Beach Tennis Center
Miami Beach Tennis Centre is located just two blocks from its namesake beach and boasts a facility equipped with 10 Har-Tru clay courts and 2 hard courts. All courts are lighted and maintained to the highest of standards with pro shops and stringing services on-site. What's better? Miami Beach Tennis Center is a public tennis facility open to everyone, allowing for the rental of courts by the hour.
Residents of Miami Beach with ID pay $9 per person per hour, while non-residents of Miami Beach pay $15 per person per hour and a $5 light fee per person per hour after 5PM.
Cliff Drysdale Tennis Center at Ritz Carlton
Cliff Drysdale Tennis Center sits atop the Ritz-Carlton Key Biscayne, Miami. An impressively large facility, not only lauded by Tennis Magazine as one of the 50 best in the US but also the brainchild of tennis star and sports commentator Cliff Drysdale. This top-notch centre is equipped with 11 courts, one hard and ten soft-clay, with clinics and individual lessons available. The championship tennis courts are open year round and available to hotel guests, members, and the general public.
A daily rate of $15 per person is charged for court time, which includes unlimited play, a can of balls, refreshments and towels. What more could you want from a game of tennis? Other than a win of course!
Flamingo Park Tennis Center 
The Flamingo Park Tennis Center is a renowned public facility featuring 19 courts, an impressive clubhouse and sprawling amenities, located in the buzzing South Beach area of Miami. With a significant history, this centre has hosted the prestigious Orange Bowl International Tennis Championships since 1947, a junior tournament that has been won by champions such as Chris Evert and John McEnroe.
Residents are able to enjoy affordable fees and visitors can get access to the courts for less than $10/hour.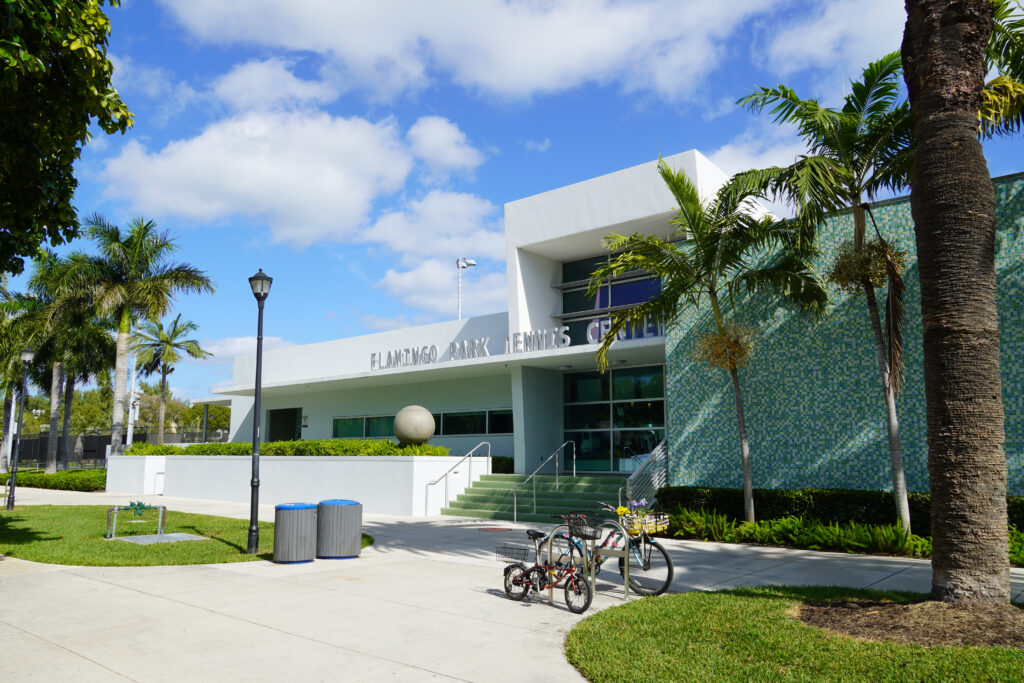 Crandon Park Tennis Center
Crandon Park Tennis Center is located in Key Biscayne, Florida. The venue's 13,800-seat venue made it the perfect host to the Miami Open from 1987 until 2018. Not only that, but the centre houses an impressive and sprawling 26 courts. Only merely compromising space for centrality at just a short 20 minute drive from Miami Beach.
And for the All Court Tennis Club, proud affiliations are held through our superstar Miami Ambassador, Frederico Goncalves. Born in Portugal and bred in Miami, Eastern Kentucky University player Frederico is the current coach to some of the ATP's top players and is proudly responsible for running the Crandon Park Tennis Center while they were host to the Miami Open.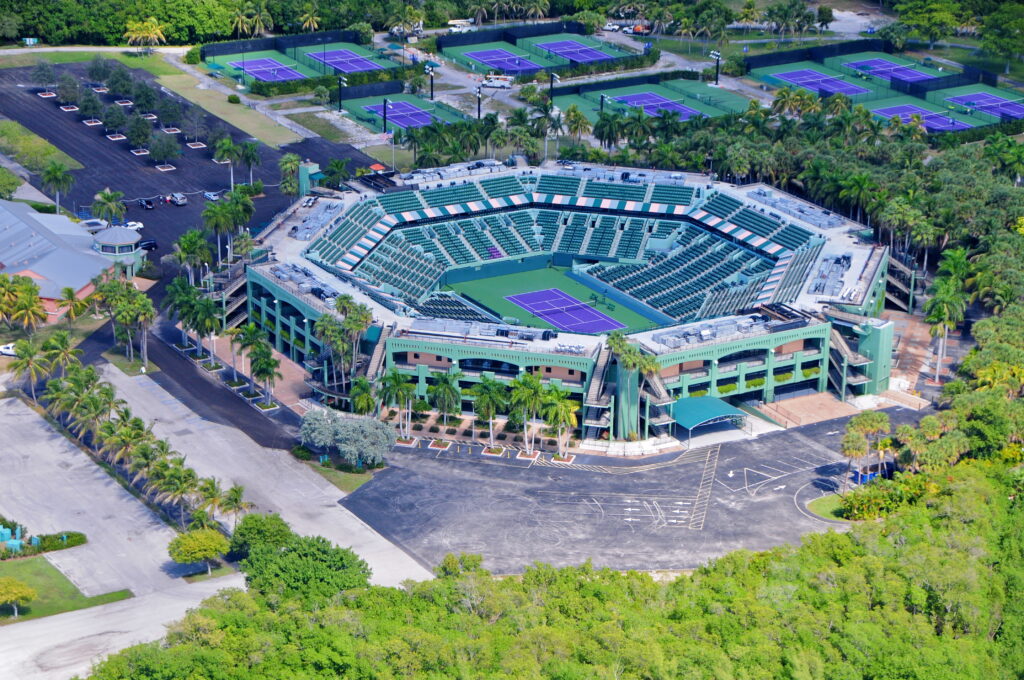 Public Tennis Courts in Miami
A lot of Miami residential areas have their own tennis courts which residents can play on for free. Want to access free courts in Miami? You can try out any of the following:
Fairway Park – 200 Fairway Drive
• Palm Island Park – 159 Palm Avenue
• Normandy Shores – 2401 Biarritz Drive
• Polo Park – 805 – 42 Street
Tennis Lessons in Miami 
When not running world-famous tennis events, Frederico heads up the All Court Tennis Club's Train & Compete programme in Miami. A 90-minute tennis training that puts players through their paces in both fitness and performance and state-of-the-art courts around the city.
You'll come away from Train & Compete with a firm foothold in the Miami tennis scene and a newfound confidence in your game, what's not to 'love?'
Frederico hosts one ladies session and one mens session per month, but keep an eye out for announcements on his special mixed events.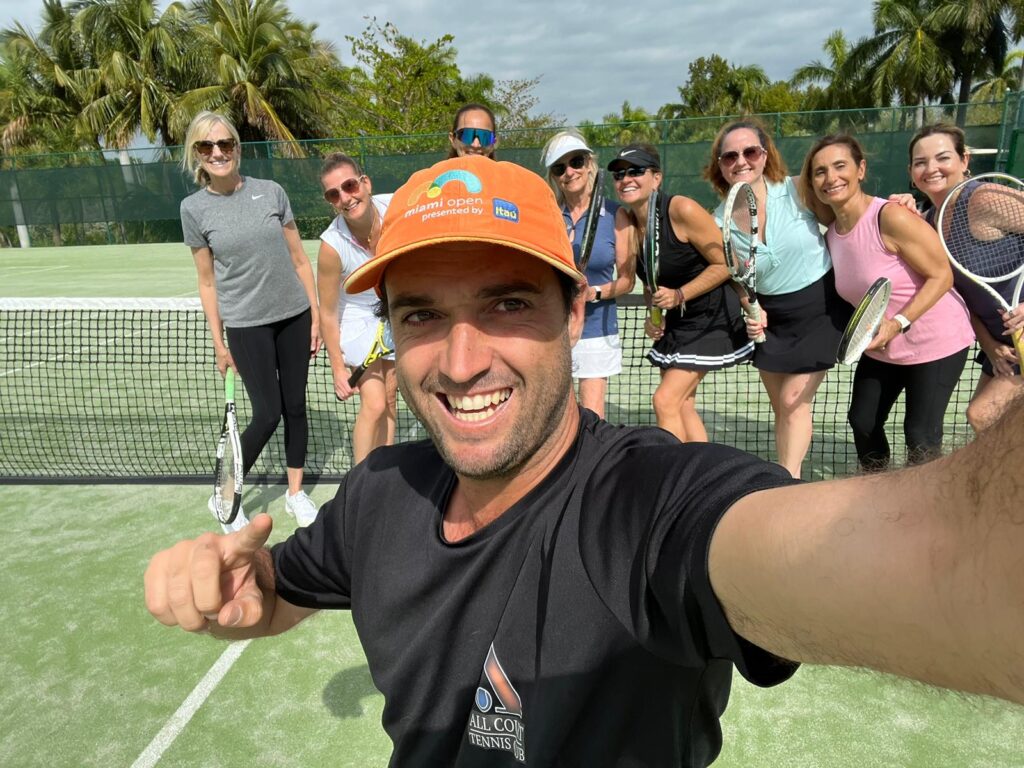 To find out more about the All Court Tennis Club's Train & Compete sessions in Miami or any more of our city chapters across the globe, click here.
You can also get in touch with Frederico over on Instagram, or message us and we can help you out!