Your seamless onboarding to our revolutionary app, guiding you step-by-step on the path to booking pro hitters and elevating your tennis lifestyle.
Sign up here for our newsletter and receive special deals, exclusive news & events, training & tips...
Await
£100 credit
to use towards your first hitting session
RECEIVE APP DOWNLOAD LINK VIA
EMAIL
DOWNLOAD LINK AND
REGISTER
YOUR DETAILS
EXPLORE APP AND
BOOK HITTERS
ENJOY
COMPLIMENTARY TRIAL
PERIOD ON APP PRIOR TO OFFICIAL LAUNCH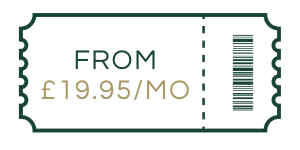 Practice With Pro Players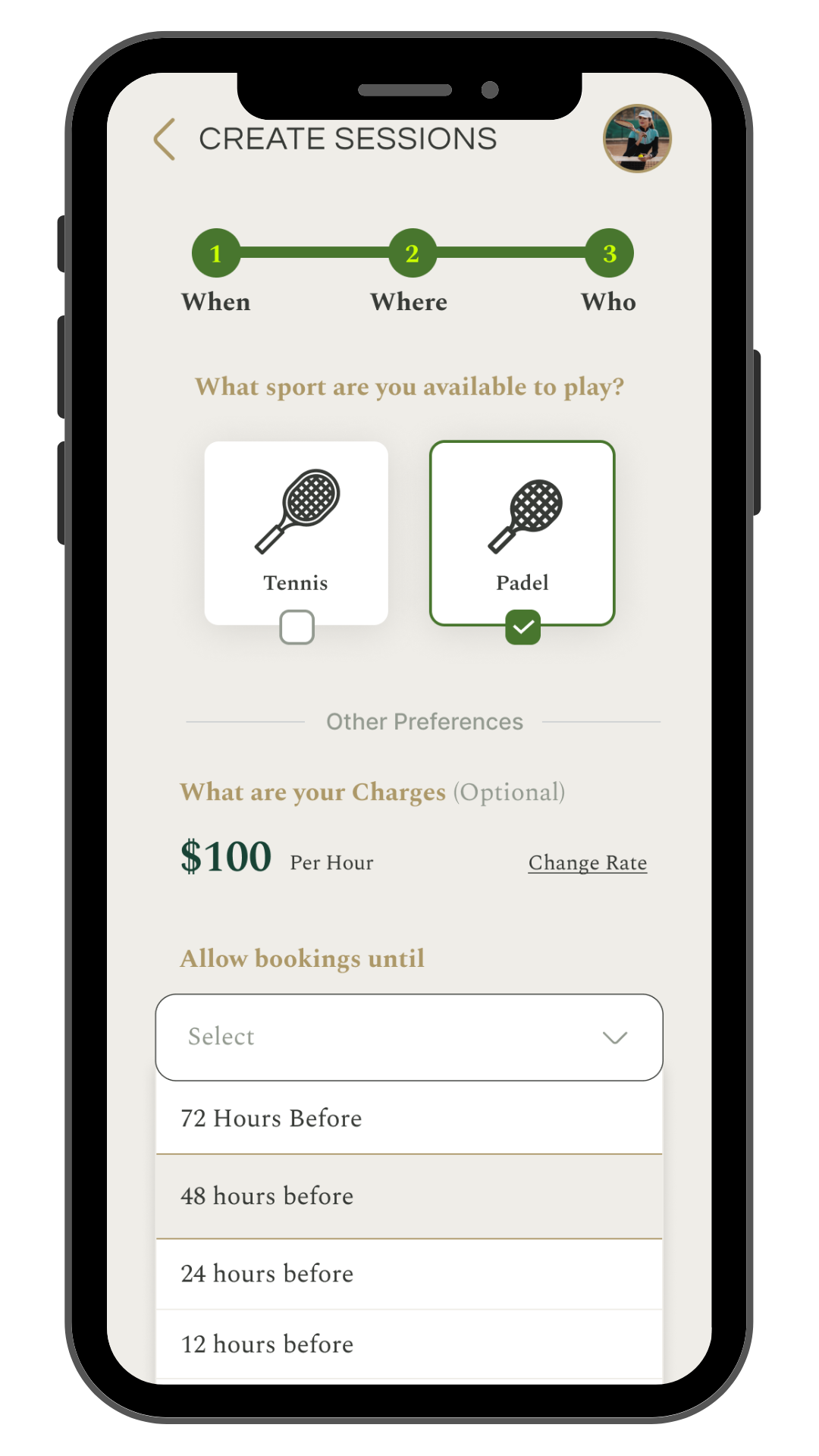 Through our app, you can 'swipe right' to book hitting sessions with professional players on tour.
Pro players supplement their touring income by posting hitting sessions on the app for our members to book.
Members book and pay for those practice sessions on the app. Members can also request their fav pro player for a session. Level up your game with a unique practice session on our app!"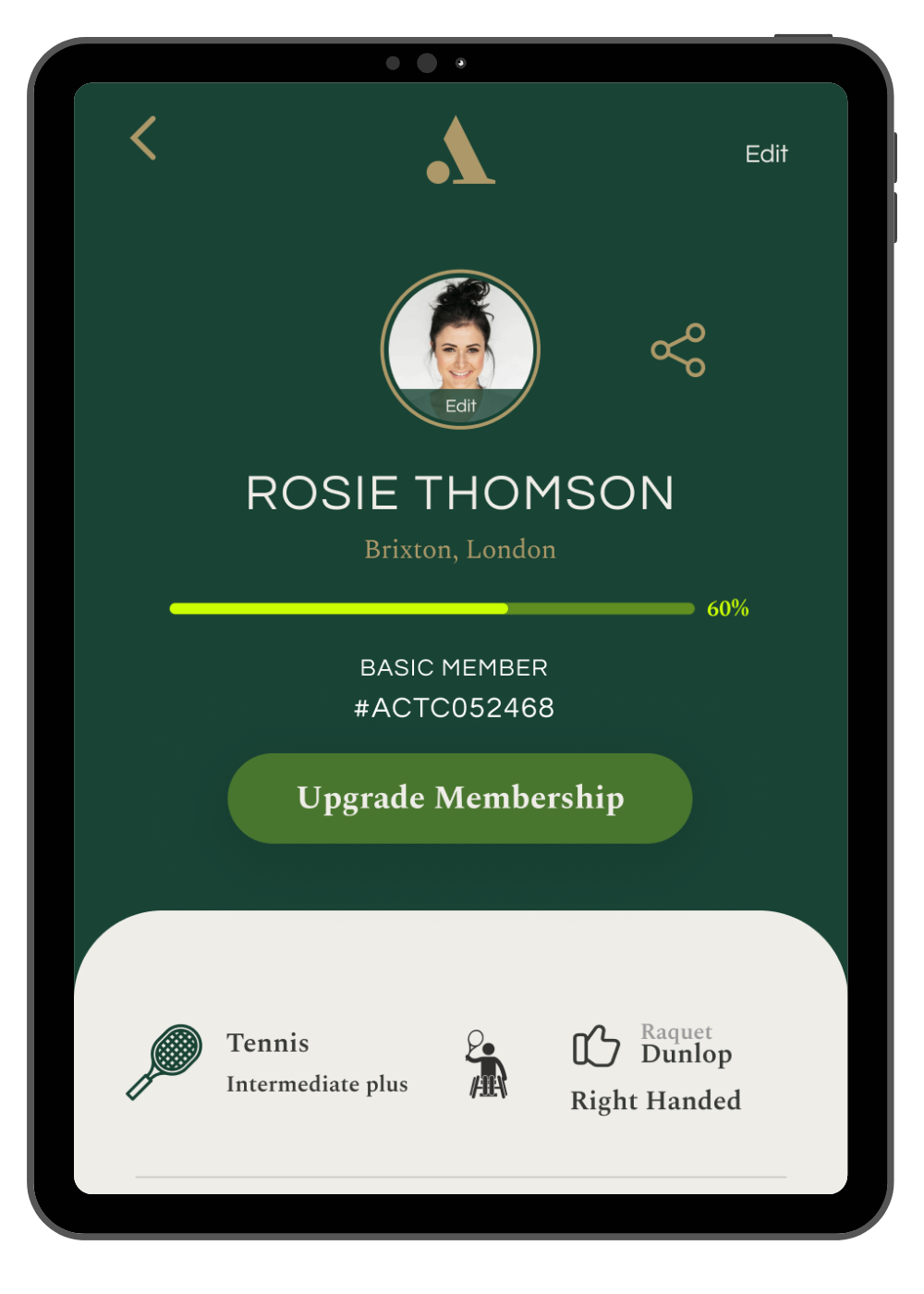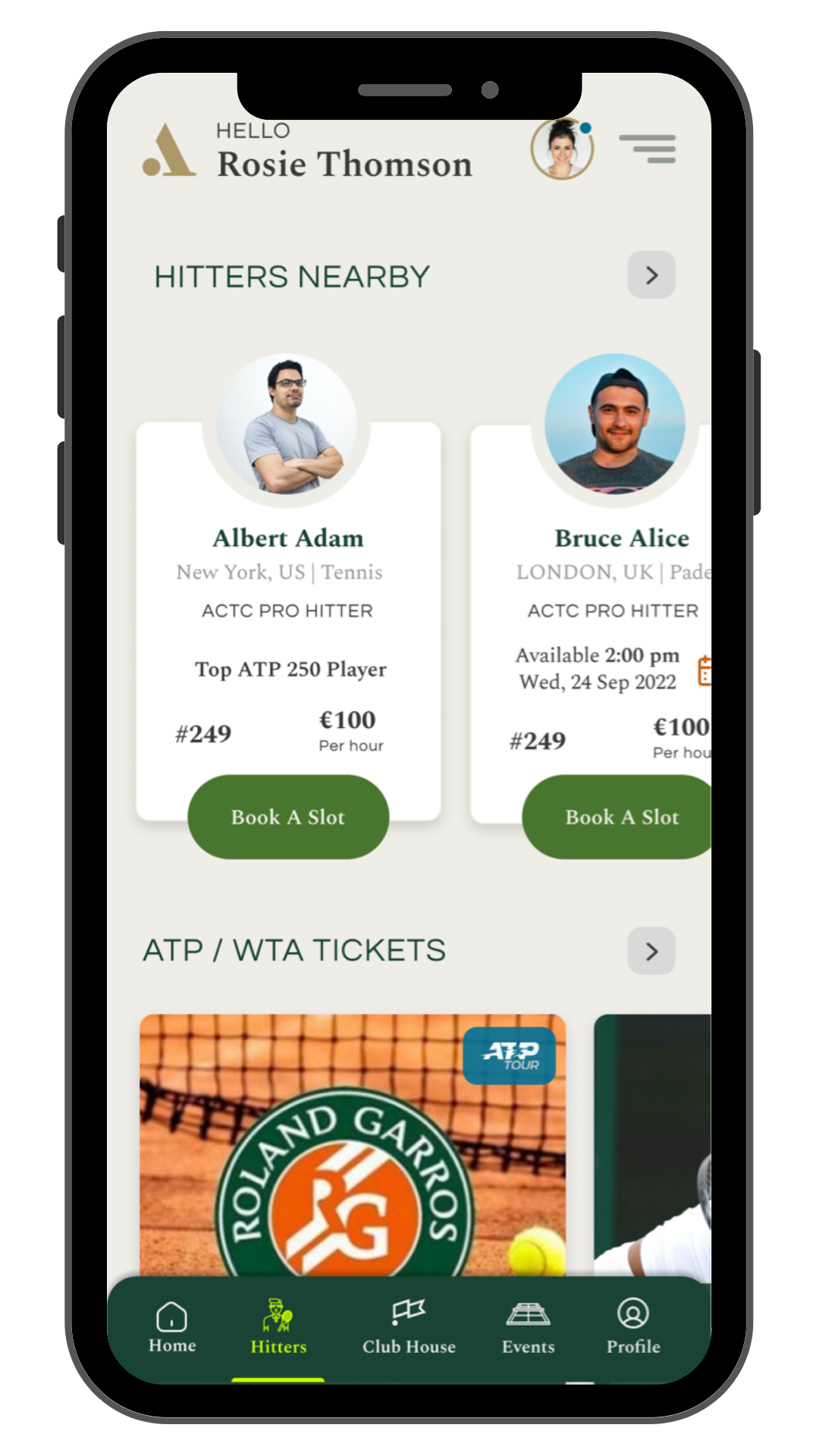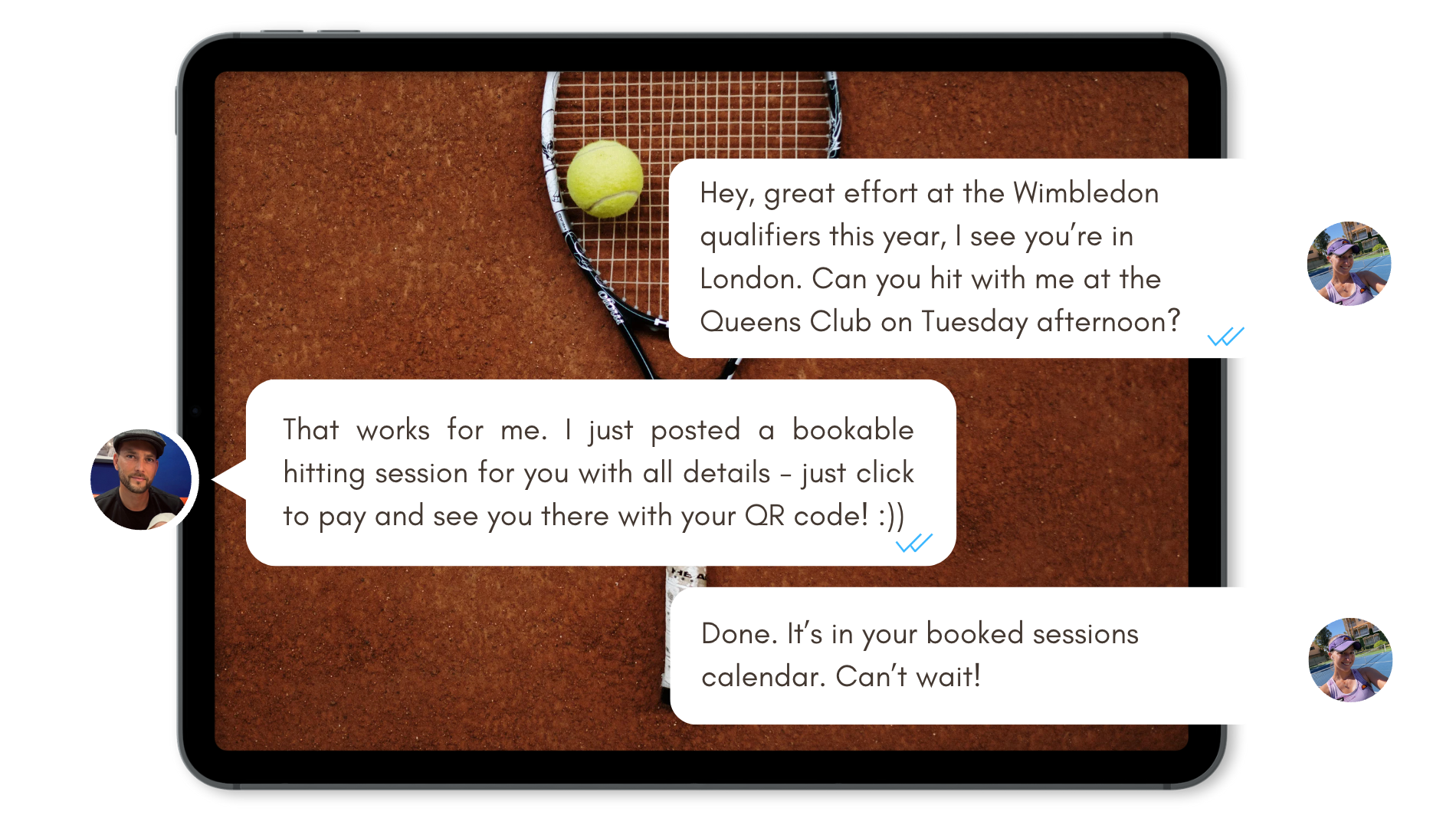 Frequently Asked Questions
What is the All Court Tennis Club?
The All Court Tennis Club is a virtual racquets club providing passionate, amateur tennis players with access to events, clubs, coaches, pro hitters and exclusive content. We're building a global lifestyle brand and community and we'd love you to be part of it.
Where is it based?
The company and management team that runs the club is headquartered in London. We have pro-hitters, coaches and brand ambassadors in different cities all around the world from Madrid to Mumbai, Singapore to São Paulo, New York, Paris, London and places in between…
Who's on the team?
Check out our
bio
page to see some of the great people building the brand and running the club.
I see you're building a mobile app. When will it be released and what will it do?
Our mobile app is set for release in June, 2023. One of its main functions will be as a marketplace for our members who sign up for
Advantage
membership to book or request to book practice sessions with professional tennis players around the world, with the first release being focussed on London, Paris and New York.
Do you only do tennis? What about other racquet sports?
We focus on tennis but rest assured that our padel and pickle ball brethren are most welcome. We are building our community and offerings in these two growing sports.
How can I get involved as an amateur player?
If you love playing racquet sports, travel, watching tennis, socialising around the game or all of the above, apply for one of our
memberships
. We'll do our upmost to be your premium passport to a tennis lifestyle.
Can I experience playing on the grass at Wimbledon, clay at the Monte-Carlo Country Club or similar? Can I, as an amazing experience for myself or as a unique gift, play with someone famous?
All possible. Sign up to
Advantage
and enquire.
How can I get involved as a professional tennis player (on tour or actively playing tournaments)?
We have pro hitters and coaches in many major cities all over the world. If you're interested in becoming one of the club's professional hitters click
here
.
How can I get involved as a high level coach?
If you're a highly qualified coach with an open, entrepreneurial mind, click
here
.
Do you collaborate with fashion brands, tennis academies and resorts or premium products?
Yes indeed! Our community of discerning racquets players and travellers are always keen to hear about new offerings. If you like our brand and think we could make magic together, inquire
here
.
You mention that you act as a concierge as part of the All Court Tennis Club benefits. What does that mean exactly?
If you're a
Baseline
member and you purchase one of our events, we have a team that can on your request recommend and book flights, hotels and restaurants. If you're an
Advantage
or
Ace
member you have access to this service whether you've booked one of our events or not. Of course we are most expert in racquets related offerings!
How can I as a member access clubs and courts?
Right now we have a number of relationships with clubs through our ambassadors where you can access and play at the club with our ambassador or other members on a case by case basis by
contacting us.
Our mobile app future releases will put this benefit on the app and at your fingertips.
I'd love my racquets club to get involved in a partnership with you. How do I help in that?
We'd love to hear more about it! Please inquire
here
.
Do I need to be a member to attend All Court Tennis Club events?
Do you do your own events or take people to existing events?
We do both. Our Train & Compete city events are group performance training sessions, designed for the busy club amateur who wants to compete more freely in his or her matches or friendlies. Our Play & Watch series is where we take a group to play at a private club and also watch the pros play the grand slams or majors tournaments. Finally in our Team Tennis series we use ITF tournaments for amateurs in the best locations and take a team to play, support and hit the town!
Do you sell tickets just to watch international events like Grand Slams and ATP / WTA major tournaments?
We do. We understand sometimes you just want to remain off court and soak in the atmosphere of the big professional events. You can check out what's on offer for tennis and other sports on the international stage,
here.
What payment process does All Court Tennis club use for its events?
Our payment provider is Stripe. Stripe is a certified PCI Service Provider Level 1. This is the most stringent level of certification in the payments industry. All payments occur in Stripe's payment platform and all card numbers are encrypted at rest with AES-256. No banking details are held by us. For more information on Stripe and its security measures, visit this page.
Are my bank card details protected?
Yes, we use Stripe as our payment provider. Stripe exceeds the most stringent security standards. All transactions are SSL (Secure Sockets Layer) protected. Your information is securely transmitted during the processing of payment. Stripe also has the highest grade of payment processing security (PCI Service Provider Level 1) and all bank or credit card numbers are encrypted. Stripe is trusted by thousands of businesses including many Fortune 500 companies. Find out more about Stripe security levels here.
How experienced is the All Court Tennis Club events team?
We've run over 20 events since inception in 2018 in cities such as London, New York, Paris, Madrid, Dubai, Monaco, Turin, Miami, Las Vegas and São Paulo. Our events team comes from big luxury events players like Virgin, Stoke Park and providers of tennis programmes to platforms like Universal Tennis. You're in safe hands.
What is the cancellation policy?
We understand that sometimes life gets in the way and plans change unavoidably. That's why we give you back your money if you unfortunately need to cancel 48 hours or more before the event. No questions asked.