Access to world class courts, coaches and hitters
The All Court Tennis Club is a global club of passionate, amateur tennis and padel players – with exclusive access to clubs and courts, coaches and pro hitting partners, experiences and events.
Sign up here for our newsletter and receive special deals, exclusive news & events, training & tips...
The world's most luxurious tennis club, where amateurs get to play on hallowed turf

UNRIVALLED ACCESS TO
TOP CLUBS
ACROSS THE GLOBE
PLAY & WATCH
PREMIUM EVENTS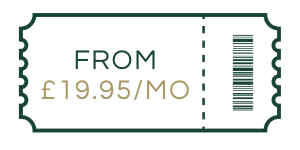 Practice With Pro Players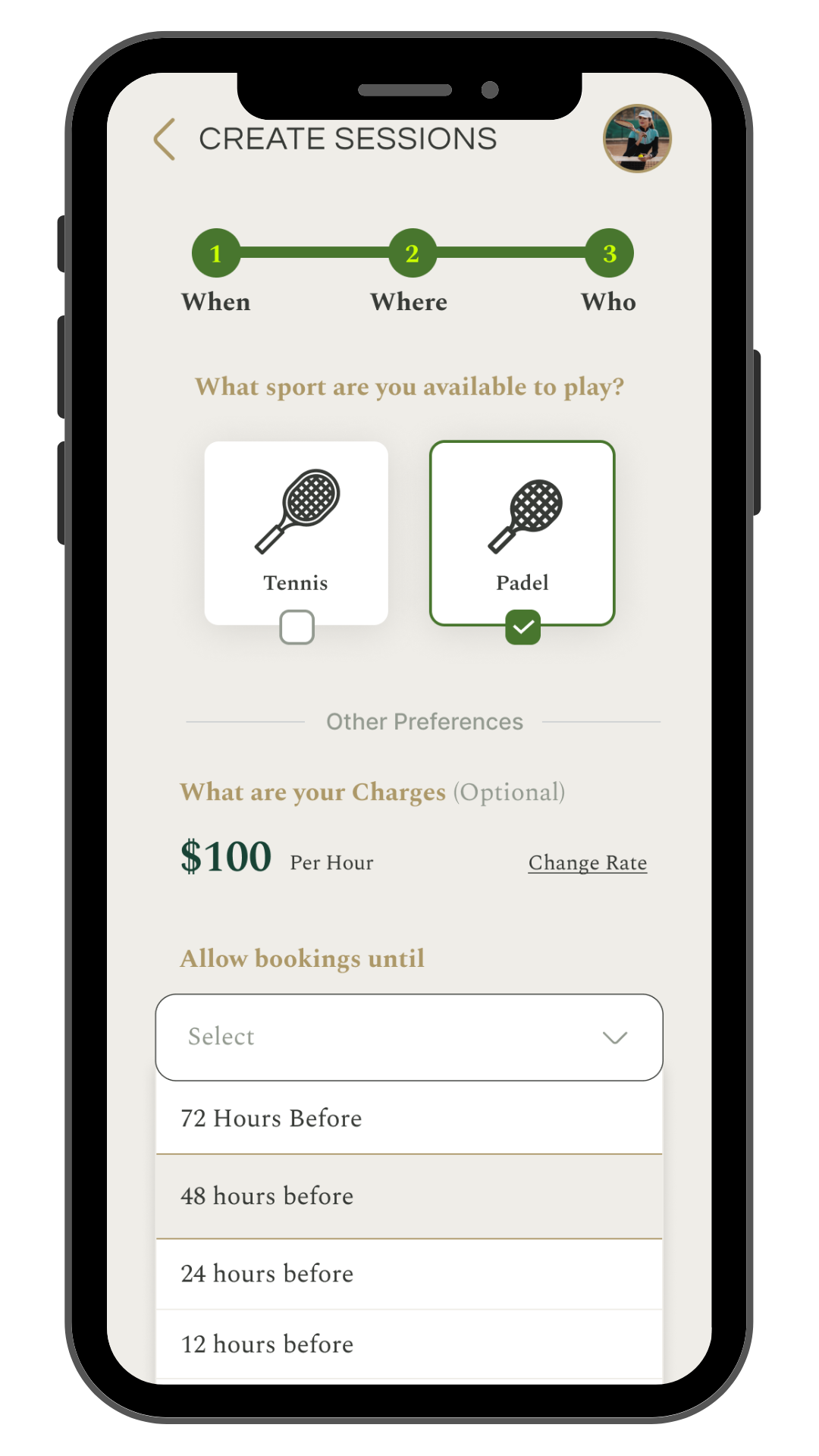 Join the app and
'swipe right'
to book hitting sessions with professional players on tour.
Pro players supplement their touring income by posting hitting sessions on the app for our members to book.
Members book and pay for those practice sessions on the app. Members can also request their fav pro player for a session.  Level up your game with a unique practice session on our app!"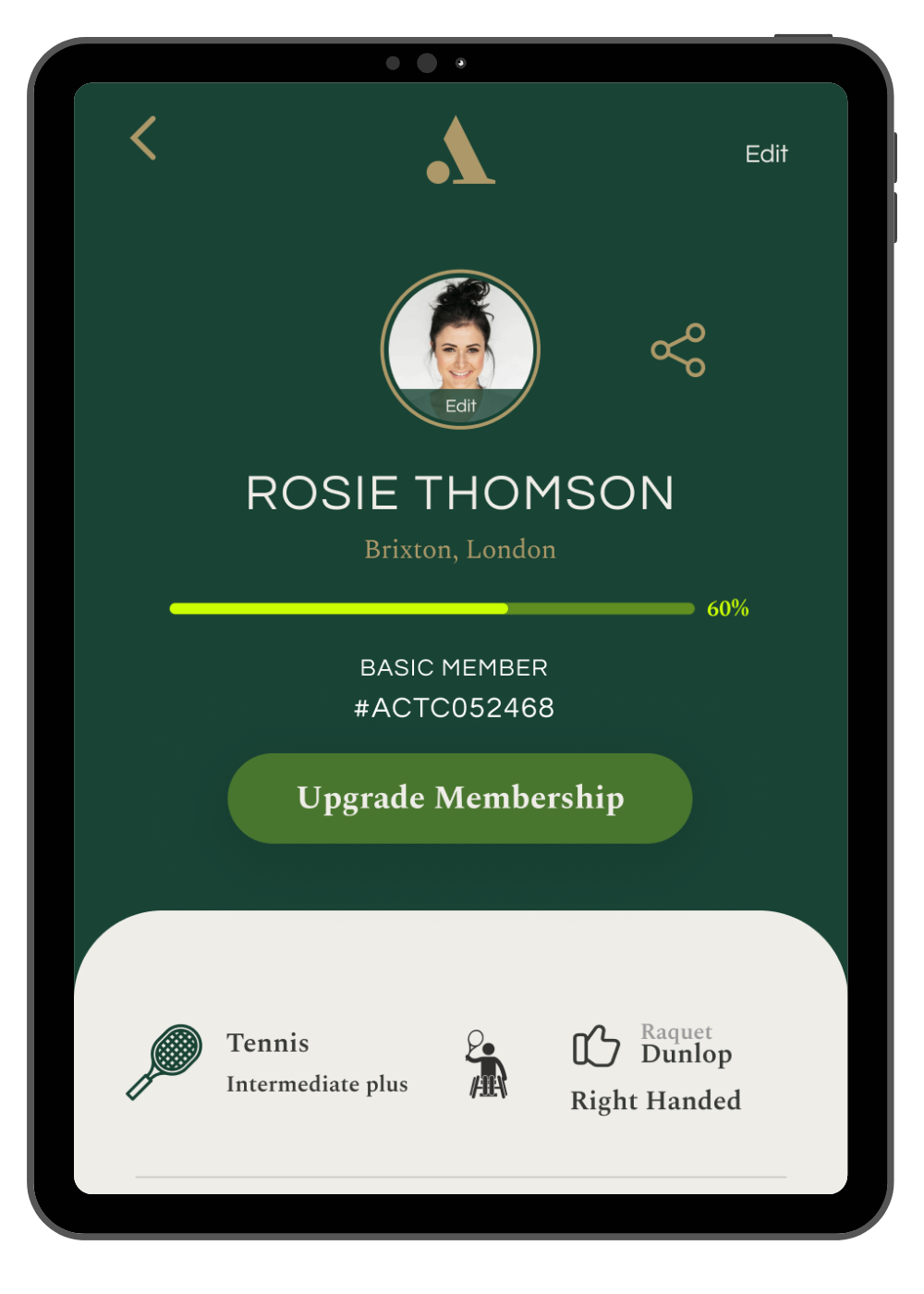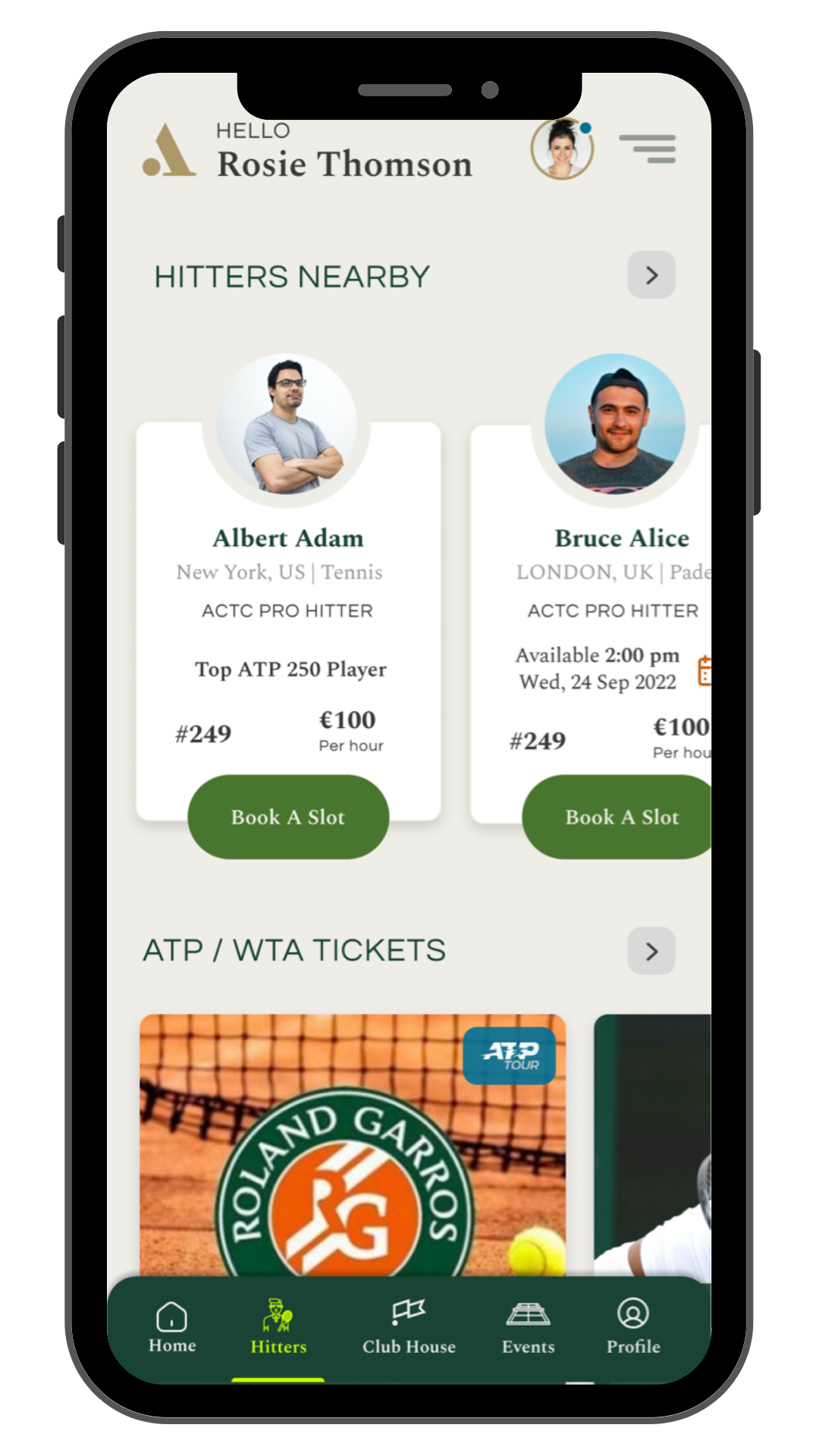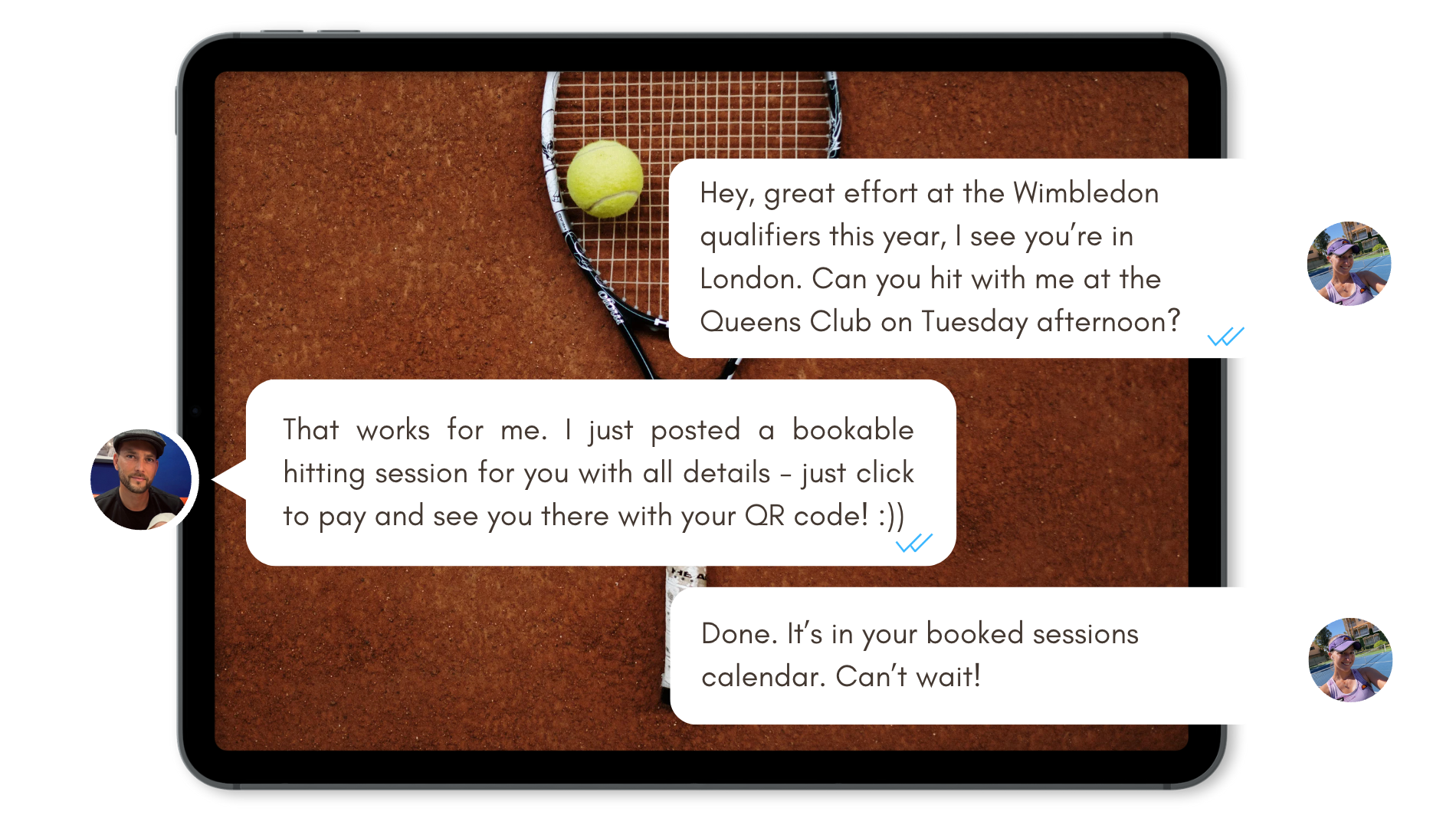 Technical Videos
Weekend warrior or dedicated athlete? Participating is everything. Our bespoke video lessons and collaborations with expert coaches will propel you to a bigger and better racquets lifestyle.
Lengthen & Strengthen
Get strong.  Get loose.  Get the right videos.  Stretching and building up tennis-centric muscle groups is vital to a long-lived racquets lifestyle. Practice the same exercises as taught to elite athletes in track and field, triathlon, tennis & winter sports by our established London sports physiotherapist
It's all in your head
You know it, the pros know it and so do we.  When you're playing competitive points or matches, the mental game is key.  We work with the best tennis psychologists and mental strength consultants in the game to send you bite-size audio clips, webinars, and online training – giving you the edge.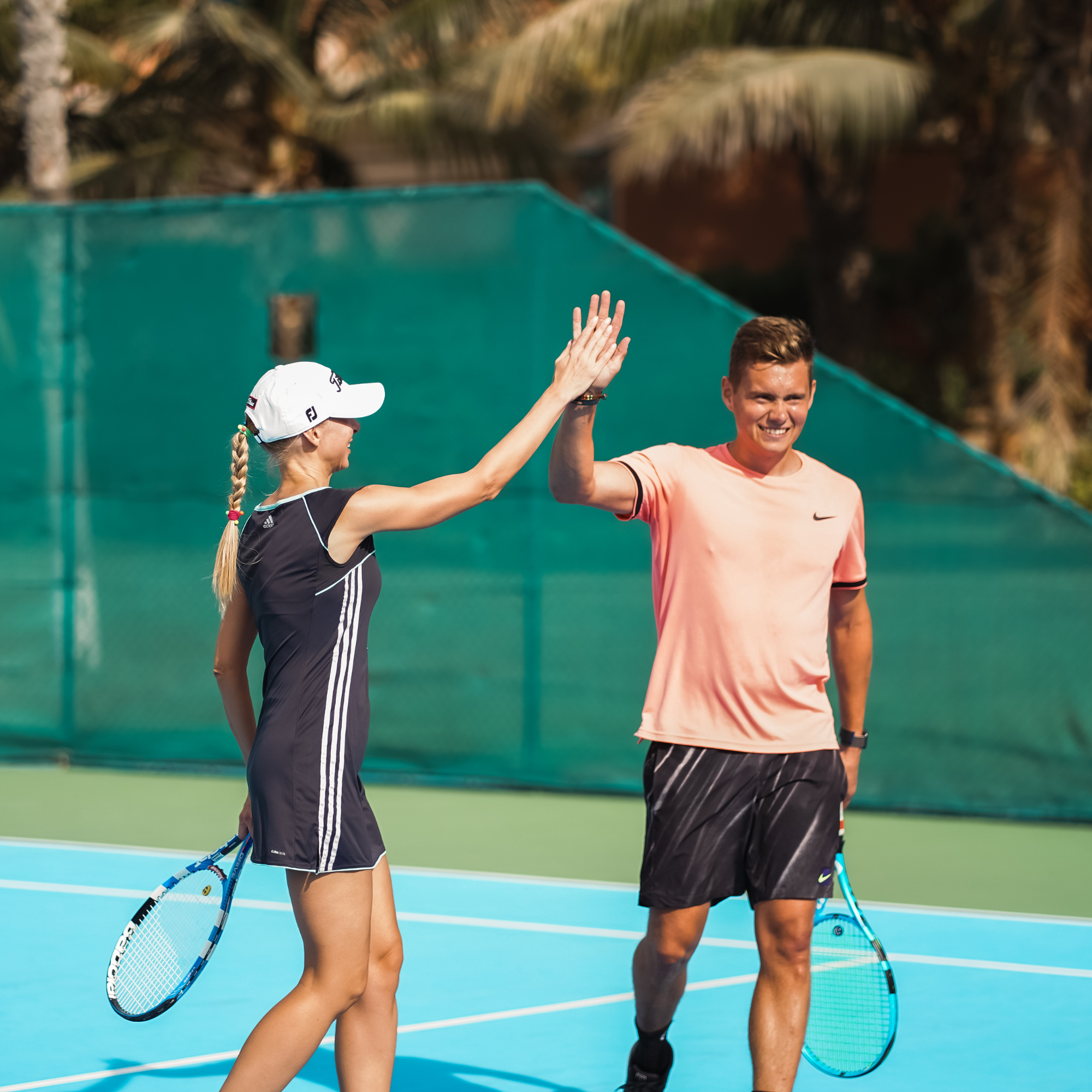 Get to know us
Stay in-the-know on our partner discounts and event notifications. Invites to draws on Grand Slam and pro tournament tickets. Weekly blog, newsletter and your own travel concierge service when you book an event with us.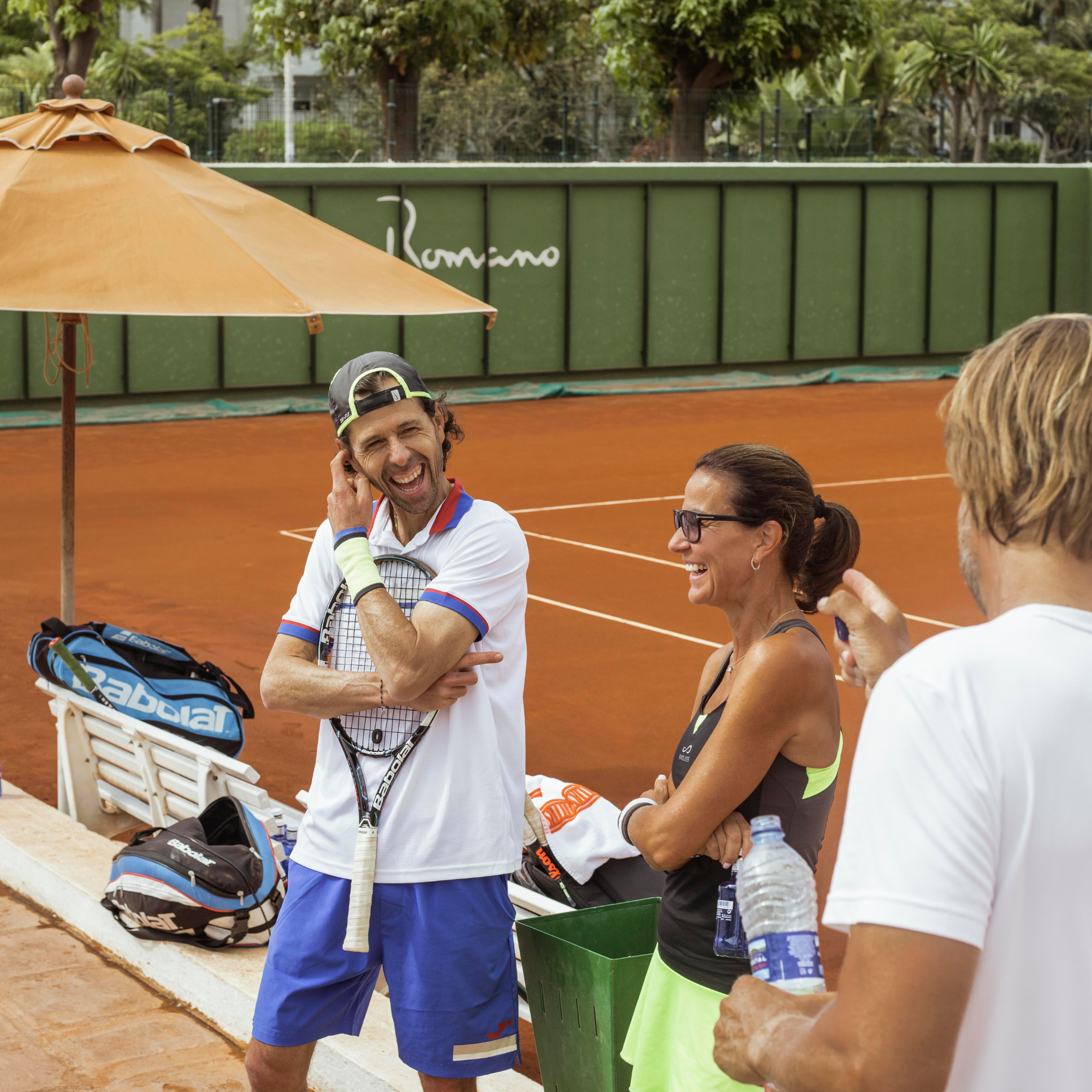 ADVANTAGE
Play with the pros 
Access our app to book hitting sessions with world-class professional hitters in different cities. Curated tennis lifestyle content and our travel concierge at your beck and call for tennis or other travel.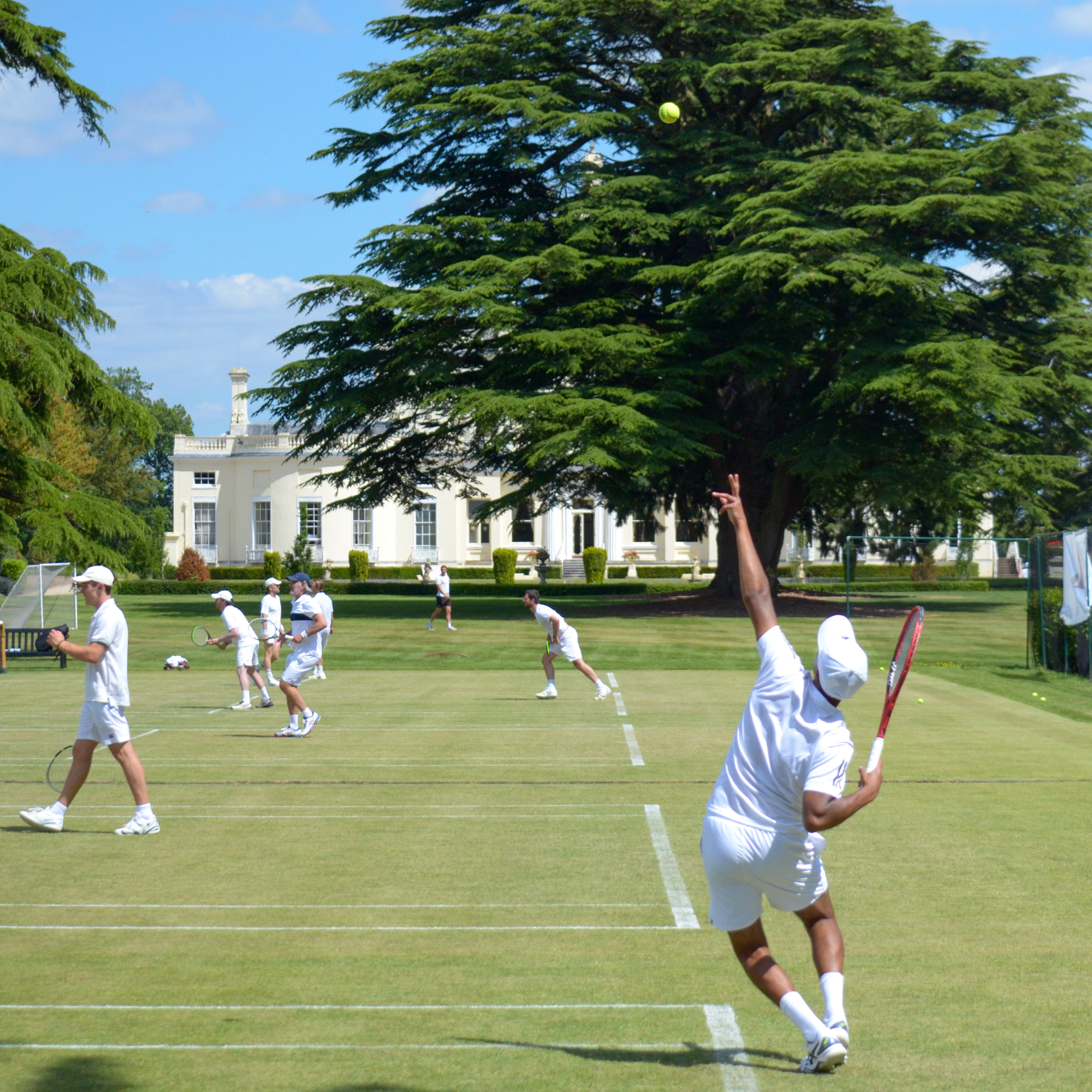 Ace
A LUXURY RACQUETS LIFESTYLE
Be an insider in the ultimate international racquets community. Ace membership gives you an in-app booking platform to play at private member clubs across the globe, book hitters and coaches, attend top tournaments and communicate with club members in your city or on your travels.
Train & Compete
Time to get off the screen and get to work.  90 minute group sessions of focussed drills from Top 20 pro players and our own hand-selected performance coaches.  Plus some fun thrown in. Take a competitive mindset into those club ladders, city leagues and grudge matches against your tennis nemesis. Get the Train & Compete advantage.
Play During Major Tournaments
Play & Watch
Grab your racquet and your ticket at our Play & Watch series of events.   Play at a private members club in the morning and watch grand slam events and other famous ATP and WTA tournaments in the afternoon or evening.  Tournament tickets, hotels, transport and restaurants all organised by your All Court Tennis Club. Find your favourite Play & Watch.
Team Tennis Trips
We choose the best amateur ITF tournaments in dreamy locations and wrap a premium experience around them. You show up with your racquets and hand luggage. We'll provide a team of fellow playing members, organise your travel and dish up suggestions on dinner and social experiences. Delve into ITF Team Tennis by the All Court Tennis Club.
David J. Entwistle
The All Court Tennis Club is a unique club combining the sport of tennis with social networking. I found the people to be interesting, fun and passionate about tennis. The club is very well organized and the venues are 1st Class.
Andrew D Low
I've enjoyed All Court Tennis Club's events in both Paris and New York, they were both excellent! They have access to the best courts, tips from top professionals and the chance to meet other members from around the globe.
Nirav Mody
Thanks to Adrian and his team, within a few hours of landing in London, I was confirmed to play with a fellow member at one of the top clubs in central London, which otherwise as a visitor I would not have access to. What an experience!
Ricardo Fernandez
I love the club's Train & Compete sessions. The quick change of pace and level of play was very insightful and enjoyable. I also valued meeting other people in my same situation to organize future games. Nice community.
Aditya Khilnani
I didn't plan to play tennis when travelling to new cities but All Court make it so easy and special. I loved the experience of playing with Pato at Charmartin in Madrid! He not only hosted me on the court that he beat John McEnroe, but also took time to have a quick beer and share his stories of playing on the tour.
Philipp Westermann
Thanks to All Court we were able to benefit from very advantageous rates and special treats at one of Europe's most luxurious hotels with great tennis facilities.  The experience was complete by playing with a top 20 player. Thank you to the All Court team for organising this. I recommend them for any tennis related holiday!
Fausto Zanetton
I attended both the wonderful events at Stoke Park and Turin last year. It was a pleasure to connect with like-minded tennis enthusiasts from all over the world. The masterclasses were great and the social events contributed to a very special atmosphere.
Merritt Piro
All Court has offered me the opportunity to play tennis tournaments in the most iconic and magical settings. Through these tournaments and experiences, I have forged international friendships both on and off the court. I always look forward to seeing where the club will host its next breath-taking international event!
Ricardo Lombardi
I live in London but travel to Dubai often for family holidays and business. The ACTC has enabled me to connect with a local group of like-minded, passionate tennis players who quickly welcomed me into their events. The recent tournament at Atlantis The Palm was played under idyllic sunny conditions and on beautiful courts, striking the perfect balance of a relaxed whilst competitive atmosphere.
Pranav Reddy
I got a chance to hit with the Bryan brothers, all thanks to ACTC! Their event in New York was excellent, filled with a tonne of tennis tips from the famous tennis duo. I made a bunch of new friends from across the pond and played with the pros. It was a perfect day filled with tennis and drinks. I would totally do this again.
Michel Cassard
The ACTC has been an amazing resource for my international tennis. I moved to Dubai from London and within just a couple days of arrival, the ACTC set me up with a top local club to play at and with other members who are passionate tennis players. Invaluable for any new city!
George Palmer
Really great evening of Padel, drinks and paella organised by All Court in London recently. I will definitely be coming back to the next event. Lovely people and a high standard of Padel. Some awesome Slazenger prizes too. Thank you again!
Jane Lau
Thanks Francesca and team for organising a really fun event. Looking forward to more in the future!
WE LOVE QUALITY, PROFESSIONALISM AND PEOPLE PASSIONATE ABOUT racquets sports. 
The All Court Tennis Club's family of hitters, coaches and clubs is a key to our success.  We also collaborate with best-in-class fashion houses, and premium hotels, resorts and academies.
Take a look.
Frequently Asked Questions
What is the All Court Tennis Club?
The All Court Tennis Club is a virtual racquets club providing passionate, amateur tennis players with access to events, clubs, coaches, pro hitters and exclusive content.  We're building a global lifestyle brand and community and we'd love you to be part of it.
Where is it based?
The company and management team that runs the club is headquartered in London.  We have pro-hitters, coaches and brand ambassadors in different cities all around the world from Madrid to Mumbai, Singapore to São Paulo, New York, Paris, London and places in between…
Who's on the team?
Check out our bio page to see some of the great people building the brand and running the club.
I see you're building a mobile app. When will it be released and what will it do?
Our mobile app is set for release in June, 2023. One of its main functions will be as a marketplace for our members who sign up for Advantage membership to book or request to book practice sessions with professional tennis players around the world, with the first release being focussed on London, Paris and New York.
Do you only do tennis? What about other racquet sports?
We focus on tennis but rest assured that our padel and pickle ball brethren are most welcome. We are building our community and offerings in these two growing sports.
How can I get involved as an amateur player?
If you love playing racquet sports, travel, watching tennis, socialising around the game or all of the above, apply for one of our memberships.  We'll do our upmost to be your premium passport to a tennis lifestyle.
Can I experience playing on the grass at Wimbledon, clay at the Monte-Carlo Country Club or similar? Can I, as an amazing experience for myself or as a unique gift, play with someone famous?
All possible.  Sign up to Advantage and enquire.
How can I get involved as a professional tennis player (on tour or actively playing tournaments)?
We have pro hitters and coaches in many major cities all over the world. If you're interested in becoming one of the club's professional hitters click here.  
How can I get involved as a high level coach?
If you're a highly qualified coach with an open, entrepreneurial mind, click here.  
Do you collaborate with fashion brands, tennis academies and resorts or premium products?
Yes indeed!  Our community of discerning racquets players and travellers are always keen to hear about new offerings.  If you like our brand and think we could make magic together, inquire 
here
.
You mention that you act as a concierge as part of the All Court Tennis Club benefits. What does that mean exactly?
If you're a Baseline member and you purchase one of our events, we have a team that can on your request recommend and book flights, hotels and restaurants.  If you're an Advantage or Ace member you have access to this service whether you've booked one of our events or not.  Of course we are most expert in racquets related offerings!
How can I as a member access clubs and courts?
Right now we have a number of relationships with clubs through our ambassadors where you can access and play at the club with our ambassador or other members on a case by case basis by contacting us. Our mobile app future releases will put this benefit on the app and at your fingertips. 
I'd love my racquets club to get involved in a partnership with you. How do I help in that?
We'd love to hear more about it!  Please inquire here.
Do I need to be a member to attend All Court Tennis Club events?
Do you do your own events or take people to existing events?
We do both.  Our Train & Compete city events are group performance training sessions, designed for the busy club amateur who wants to compete more freely in his or her matches or friendlies.  Our Play & Watch series is where we take a group to play at a private club and also watch the pros play the grand slams or majors tournaments. Finally in our Team Tennis series we use ITF tournaments for amateurs in the best locations and take a team to play, support and hit the town!
Do you sell tickets just to watch international events like Grand Slams and ATP / WTA major tournaments?
We do.  We understand sometimes you just want to remain off court and soak in the atmosphere of the big professional events.  You can check out what's on offer for tennis and other sports on the international stage, here.
What payment process does All Court Tennis club use for its events?
Our payment provider is Stripe. Stripe is a certified PCI Service Provider Level 1. This is the most stringent level of certification in the payments industry. All payments occur in Stripe's payment platform and all card numbers are encrypted at rest with AES-256. No banking details are held by us. For more information on Stripe and its security measures, visit this page.
Are my bank card details protected?
Yes, we use Stripe as our payment provider. Stripe exceeds the most stringent security standards. All transactions are SSL (Secure Sockets Layer) protected. Your information is securely transmitted during the processing of payment. Stripe also has the highest grade of payment processing security (PCI Service Provider Level 1) and all bank or credit card numbers are encrypted. Stripe is trusted by thousands of businesses including many Fortune 500 companies. Find out more about Stripe security levels here.
How experienced is the All Court Tennis Club events team?
We've run over 20 events since inception in 2018 in cities such as London, New York, Paris, Madrid, Dubai, Monaco, Turin, Miami, Las Vegas and São Paulo. Our events team comes from big luxury events players like Virgin, Stoke Park and providers of tennis programmes to platforms like Universal Tennis. You're in safe hands.
What is the cancellation policy?
We understand that sometimes life gets in the way and plans change unavoidably. That's why we give you back your money if you unfortunately need to cancel 48 hours or more before the event. No questions asked.