The image is iconic: Michael Caine, wispy blonde hair, donning a trench-coat and wearing a pair of tortoiseshell eyeglasses, the shape of which few can identify. Shot for one of his early — and most archetypical, roles — that of a spy in The Ipcress File, Caine initially chose the spectacles to separate his own personality from that of his character's.
Ultimately, the plan didn't work.
Caine wound up not only wearing the Yvan spectacles by British optical designer Curry & Paxton for Ipcress and the rest of the 1960s "Harry Palmer" films by the author and illustrator Len Deighton, but also socialising around London, sharing a moment with former lover Bianca De Macias (before she became Bianca Jagger) and lastly in one of his most celebrated films, The Italian Job. Caine and the Palmer movies made the Curry & Paxton frames one of the most famous pairs of eyeglasses few could get their hands on.
"Michael Caine was good friends with Sean Connery and so he saw firsthand how the success of James Bond had impacted his personal life, the way the public had intertwined the role with the actor. Sean had grown very frustrated by that," said Peter Lynes, Curry & Paxton's current managing director. "The goal was to create a fundamentally different look for Palmer and using different eyeglasses seemed like an effective way to do that. Deighton wore Curry & Paxton and knew the Yvan frame, which we had created back in 1948 for the NHS, so he suggested those to Caine."
Thanks to Caine, Curry & Paxton entered the mainstream and opened about 60 stores nationwide, according to Lynes. Then, like many other British custom brands of the time, a large chain — in Curry & Paxton's case, the Nottingham-born herbalist-turned-chemist Boots — bought them and "within a year, had taken down the name from nearly every door and supplanted the name," Lynes said.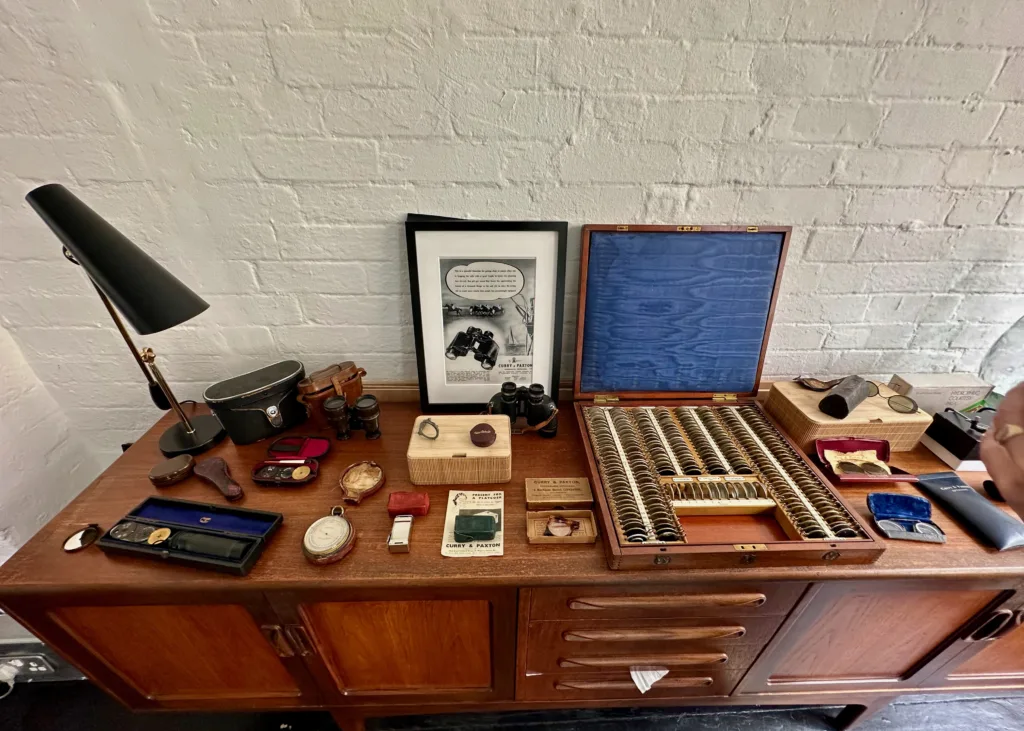 But also like many classic British brands — Eton uniform tailor New & Lingwood, leathermaker Ettinger and watchmaker Bremont — Curry & Paxton is also experiencing a renaissance. Rediscovered by David Mason of British stylist Mason & Sons and Lynes in 2016 and officially launched in 2020, Curry & Paxton frames are now becoming known for their quintessential look, as well as their modern mode of delivery: a custom pair of Yvan, or any other pair of classic frames, such as the Sean, the Hughes, or the Alex, within 24 hours of ordering (in most cases).
"Curry & Paxton never thought of itself as a 'brand' the way we define that today," Lynes said from his boutique in Shoreditch. "It was an optical firm that happened to make certain designs that people wanted to wear. But the owners just continued to stay focused on technical innovation and… nothing fundamentally changed.
"Our goal is to stay true to its heritage, especially its spirit of innovation. We think of ourselves as a clinical business first and foremost. We'll continue to build on that."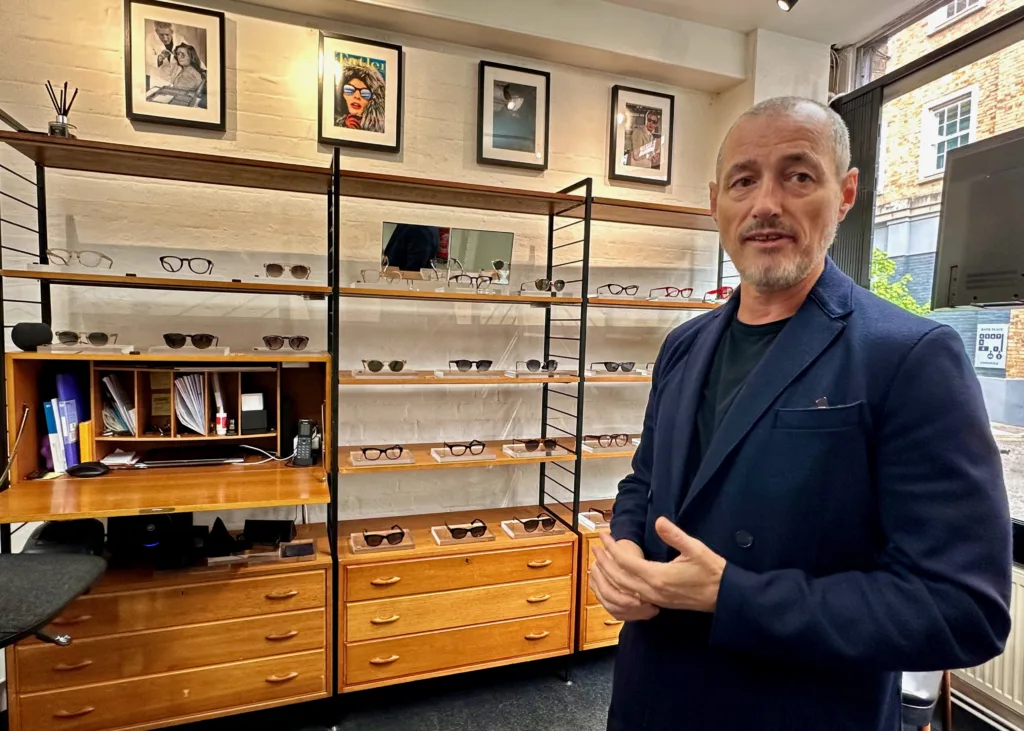 And as a tennis-related company? "These are possibly more for watching tennis at Queens, Hurlingham or Wimbledon," Lynes said, "especially the Archival Side Shieled sunglasses." Indeed, Michael Caine has not only attended Wimbledon many times, but he also played amateurly, having owned a country home with a tennis court in Oxfordshire. Caine has also hosted a number of celebrity tennis players for parties in his current Surrey home over the years. "But Curry and Paxton also made opera glasses and binoculars and all sorts of seeing devices over the years."
Founded by Joseph Pickard and William Curry in 1876 under the name Pickard & Curry and based in the centre of the West End at 195 Great Portland Street, the firm specialised in the design and manufacturing of "ophthalmic instruments and parts," including eyewear. In 1886, George Paxton Sr., joined the company following Pickard's retirement, and became the second named partner in 1920.
Although Curry & Paxton patented and manufactured many other devices, it also evolved during a time when eyewear went from being a strictly medicinal item to a fashionable accessory. The company produced, by hand, thousands of spectacles of all shapes, sizes and purposes, particularly in tortoiseshell, revered for its lightness, strength and depth of colour. Curry & Paxton produced dozens of trendy styles for both men and women under the patent "Improvement in Goggles."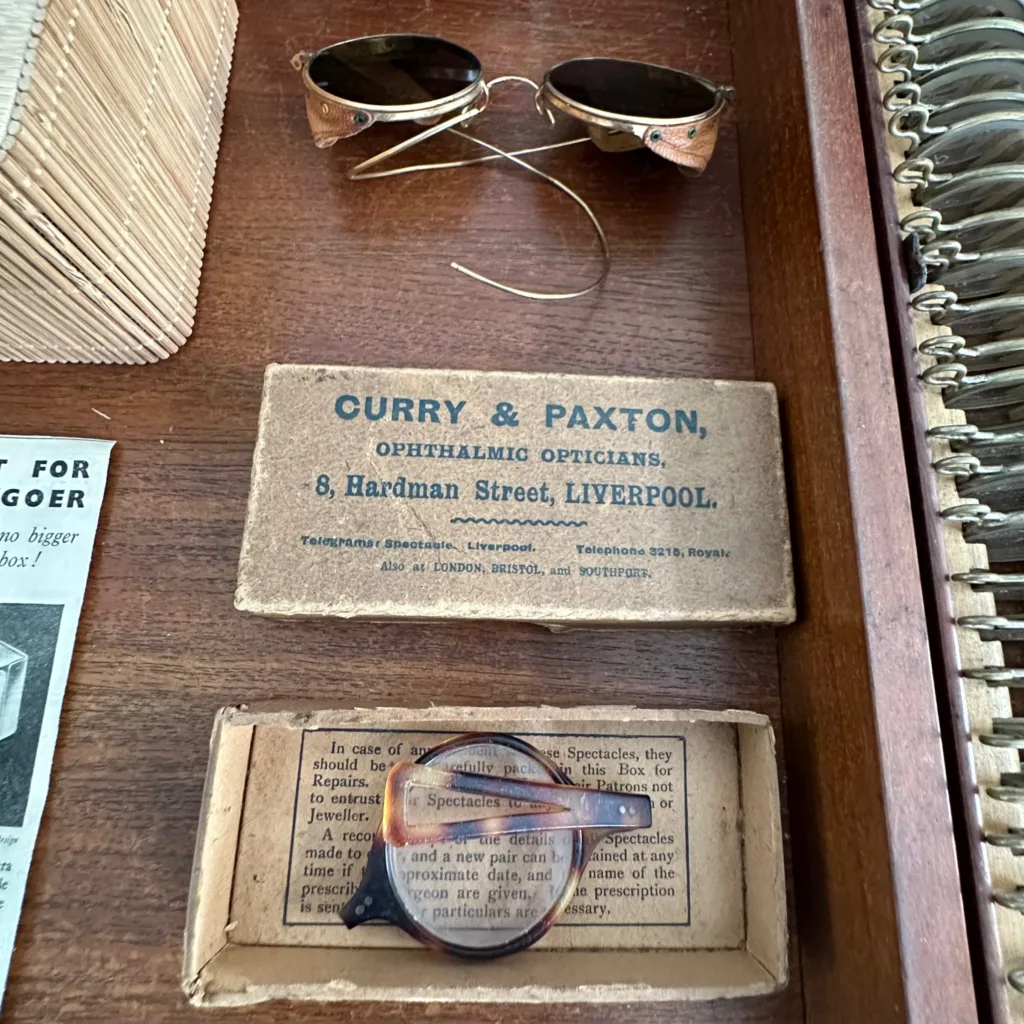 Following the World War II, Curry & Paxton started to focus on eyewear again. In November 1959, the eyewear maker graced the cover of Tatler, the magazine of society's upper echelons of the subjects that shaped it. Next came Caine and the swinging 60s and the firm flourished until the mid-1980s. Caine, in fact, did so much for 60s look, in fact, that his Curry & Paxton tortoiseshell spectacles from The Ipcress File went on auction at Christie's and sold for £6,600.
"Michael's (Caine) manager did contact us early on in our tenure and offered a collaboration of some sort… we may do something in the future," Lynes said.
For now, Curry & Paxton has revised the range, manufacturing them in Italy from acetate by Mazzucchelli, one of its leading manufacturers. The company has also caught up with other firms, such as Moscot, Warby Parker, and Ace & Tate in its e-commerce, allowing consumers to order and try on frames in their homes, then receive them in the mail.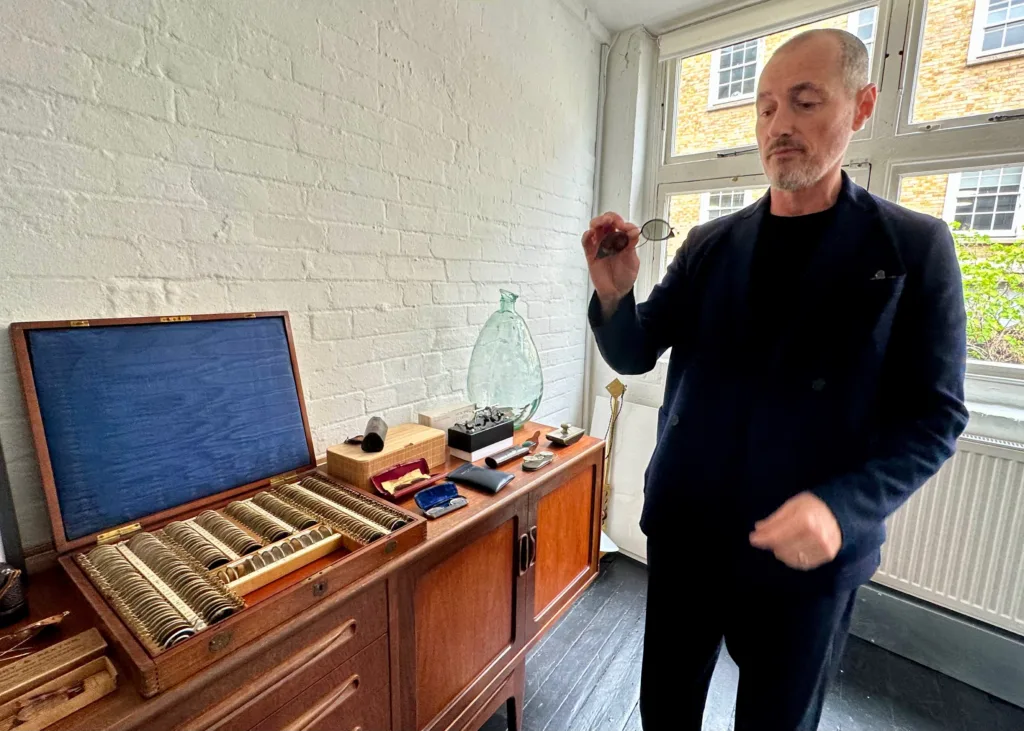 As far as growing as large as the original company, Lynes says the Curry & Paxton reboot will keep "the thread of technical excellence constant thread in everything we do.
"The aesthetics are important of course. But we also need to ensure that we're using the best materials, the best quality lenses and engineering the best designs so that the clinical devices we offer are fulfilling their purpose."
Check out www.curryandpaxton.com to find your perfect shades this tennis season.