The road to becoming a professional coach
The day I stopped playing professionally, I enrolled in a degree and set about my tennis coaching career. Initially, I completed my DCA Level 3, and over the years, I travelled a lot as a professional coach working at private clubs, academies and working with players of all levels. I then completed my level 4, and subsequently level 5 in recent years.
I work with players of all ages and skill levels, and head up a junior academy on the south coast, working with adult club players, young aspiring junior players, international junior players, and senior professional players through to Grand Slam level. I love getting on court with players of all abilities – essentially, anyone who has a passion for learning. I particularly enjoy working closely with individuals to help them achieve their goals. Building a strong rapport with players is important, to help develop a productive and enjoyable working partnership, whatever the level of player.
What makes a good tennis coach?
Building trust, I value that a lot. The holistic approach is one I like to take as I feel it gets the the most out of my players physically, mentally and tactically.
I like to get a rounded understanding of the player by setting out a clear vision of where they want to be with their game, whether that is winning a club tournament or reaching the top 100 in the world. It keeps the player motivated and ensures there is a goal front of mind at each and every session.
Supporting your children on the tennis journey
A good rapport between coach, parent and child is really important. Parents who encourage a well rounded approach to the game will tend see a happier child, whether that be in tournament play or training. Aside from winning and losing, tennis can bring with it so many benefits and life lessons, that often get overlooked in the pursuit of a win. Try to encourage your child to explore their skill set, and put value on effort and enjoyment, and you'll see them develop a long lasting love of the game, wherever their tennis journey takes them.
Keeping an open line of communication between coach, parent and child is also something I value. Fundamentally, as long as the game stays fun your child will be happy, and that attitude can apply to any sport. Its easy for parents to get wrapped up in the rat race of ratings, rankings and tournament wins, which can translate negatively on to their children, even if this is unintended. Let the child lead the way in discussions about training, matches, winning and losing and allow them the space to express what they feel.
The tennis landscape for children in the United Kingdom
In the past, we have been known as a nation of 'over-teachers' but I believe this is a reputation and trend that is evolving. The game in itself can teach us so much and I am a big believer in encouraging play and competition as an integral part of any programme at the earliest opportunity. Ultimately, tennis is a game that needs to be played a lot to be fully understood and mastered.
Parents can often place too big an emphasis on getting their children countless hours of individual lessons, and not enough of an emphasis of free play, peer sparring and match practice. Of course, individual lessons are a critical part of development, but they are only one piece of the jigsaw.
Children will be drawn to activities and sports that they enjoy – if they are part of something exciting, playing a sport they love, with a group of like-minded peers, they are bound to have fun and stay in the game for the longer term – that in itself is a success.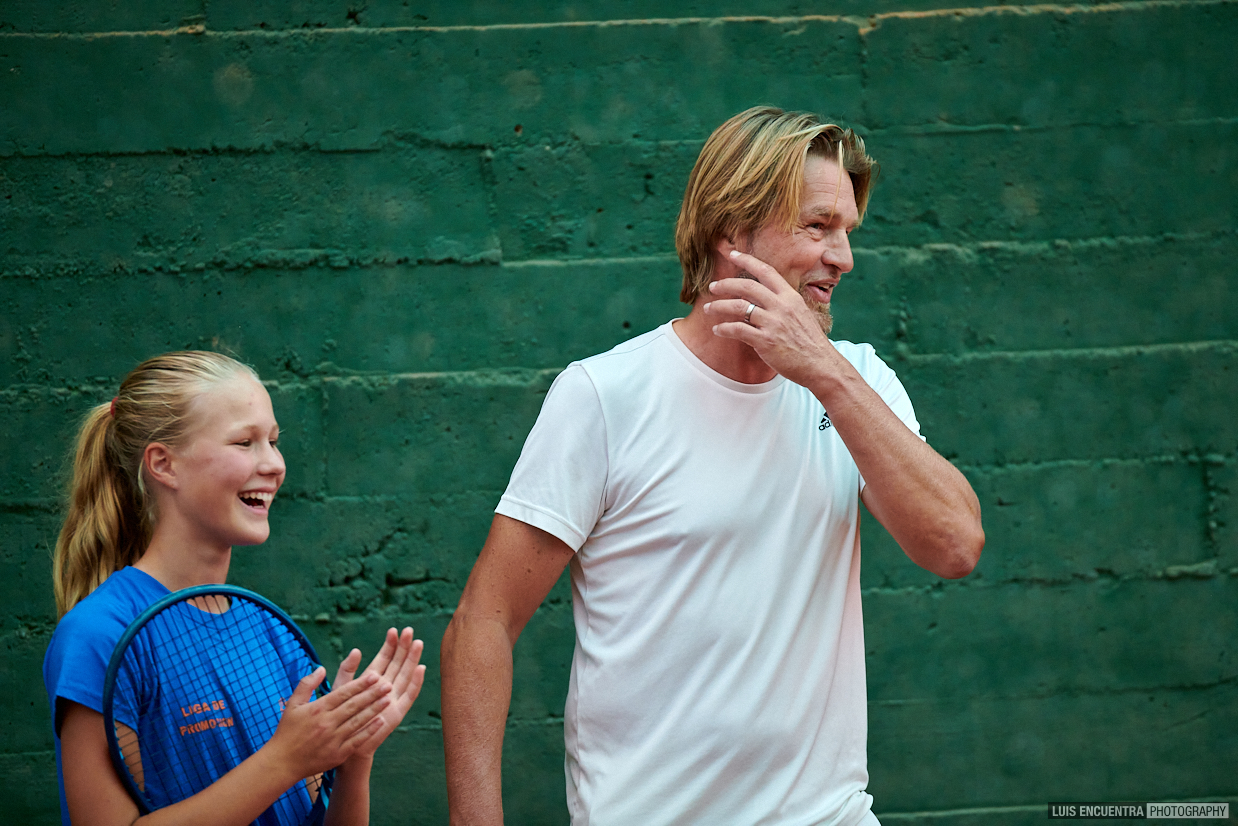 Encouraging children in sport 
It sometimes become apparent that a parent wants tennis success more (or is more results orientated) than the child. Of course, every parent has a desire for their child to do well, but its easy to get distracted by the excitement of wanting their child to improve their rating or ranking, be that at club, county level or beyond. With children inevitably picking up on emotional and behavioural cues from their parents, this can cause displacement of stress and cause unnecessary anxiety for the child, which in turn poses the potential risk of putting a child off the sport altogether. No more enjoyment, no more sport…
Keep the sport fun, be flexible, and allow your child to express what they feel about the sport, and what's important to them. Sport can be such a rewarding experience, and it is our job as parents and coaches to foster this appreciation of what tennis can provide.
Nature via nurture
I am a big believer in nature via nurture in most endeavours, and that includes tennis. Some may be 'naturally gifted' when it comes to hand-eye coordination, athleticism, tactical awareness, temperament etc, but this counts for very little, if the will (fostered by the environment) is not there to shape and direct this 'talent' in the right way. There's a great quote, 'hard work beats talent, when talent doesn't work hard' and I really like this sentiment. One could argue that working hard and staying in the game for the long term is a talent in itself, and should be valued every bit as much as other 'talents'.
Tennis doesn't have to be all about becoming a Wimbledon champion. There are so many essential skills which can be taught through the sport, culturally, socially, interpersonally and organisationally. No matter what level a child gets to in tennis, these skills will hold them in good stead throughout life, wherever their journey takes them.
Tennis can open so many doors and is also a great way of demonstrating discipline and extra curricular capabilities to future employers. I am a firm believer in the secondary skills that are taught through tennis.
Keeping children in sport as they enter teenage years
The drop-out rate from sport more widely still sits at around 50% at the ages of 15 and 16. We know this is a common theme as children get to a later stage in school, with a bigger focus on exams and social life. This is also the age that some teenagers may come to the realisation that they may not be destined for life as a Wimbledon Champion or as a professional player. Let your child guide you in finding how much and how often is right for them at any given stage, paint the broader picture early in their journey as to the benefits of the game and love of competition. Educate yourself on the different avenues and pathways available to you and your tennis playing child. Explore what's out there and encourage your child to do the same. Tennis can offer so many opportunities, which if we are open to them, can serve to excite and motivate young players through their teenage years.
Parents can be led to believe there is only one path to success in a sport, training a certain amount of hours a week in the pursuit of a dream. You know your child best, listen to them and see what they respond best to, what they enjoy and what they don't, what's too much or too little court time. We are in a sport where it is difficult to avoid comparison, but what is right for one child, will not be right for another, and all young players develop at different rates. Your child will guide you in finding how much is right for them at each stage of their journey. 
To keep up to date with more expert advice from our team of coaches around the world, sign up to our newsletter.