Wimbledon has been turned into a tennis love island this summer, with romances off the court attracting as much media attention as the action on the grass courts.
The world's media have been gathered in the packed All England Club press room over the last two weeks, with press conferences in the plush new Media Theatre filled with questions about all aspects of the lives of the biggest names in tennis.
Here is a look at the stories causing a stir at Wimbledon this summer.
'TSITSIDOSA' ARE A SOCIAL MEDIA HIT 
Tennis fans have been captivated by the flourishing relationship of world No.5 Stefanos Tsitsipas and Spain's former world No.2 Paula Badosa.
The couple dubbed 'Tsitsidosa' have been causing waves on their social media channels with plenty of playful posts since their relationship became public earlier this year. 
They have also been practicing together in recent weeks, with Tsitsipas suggesting their bond off the court is helping them flourish when the action does get underway.
"I told Paula that hitting with her and getting a feel for how her ball comes is very special," said Tsitsipas. "We also want to play at 100 per-cent, both of us, when exchanging rallies.
"When I play with her, I feel like I have a strong opponent on the other side of the net. I'm really happy that she is at such a level that allows me to train hard and also helps me improve."
Stand by for lots more 'Tsitsidosa' over the next few months.
SVITOLINA'S BABY BLUES
Ukraine's Elina Svitolina was one of the big stories of Wimbledon, as she beat a host of star names to make it through to the semi-finals.
She came up short against Marketa Vondrousova in Thursday's Centre Court clash, yet she left a big mark on the year's Championships after giving birth to her first baby, Skai, last October.
Svitolina's partner Gael Monfils is also a top tennis player, with the Frenchman making it through to the semi-finals of the French Open (2008) and US Open (2016). In addition, he enjoyed his best run at Wimbledon in 2018 when he reached the fourth round.
Monfils has been looking after Skai while mummy has been away in London, with Svitolina grateful for the support that has allowed her to get back on court.
After her win over world No.1 Iga Swiatek on Tuesday, Svitolina had a call with her family, but Skai wasn't interested in talking with her mother.
"She's with Gael at home. I was FaceTiming with her right after the match actually," the Ukrainian revealed.
"She was really distracted with her ice cream, so I was not the priority there (smiling). She is still at this age when she doesn't care if I win or if I lose. She's just happy by herself and sometimes when I return home, she's happy too.
"I enjoy seeing her happy with Gael. Our moms are helping us a lot, as well. It's great that we have a big family and lots of help."
BOULTER'S LOVE STORY
British No.1 Katie Boulter and her Australian tennis playing boyfriend Alex De Minaur were cheering each other on in week one of Wimbledon; going on to play together in the mixed doubles event at the All England Club.
Boulter's romance with the dashing De Minaur started in March 2020, with the couple boosting their social media accounts with images of their life together.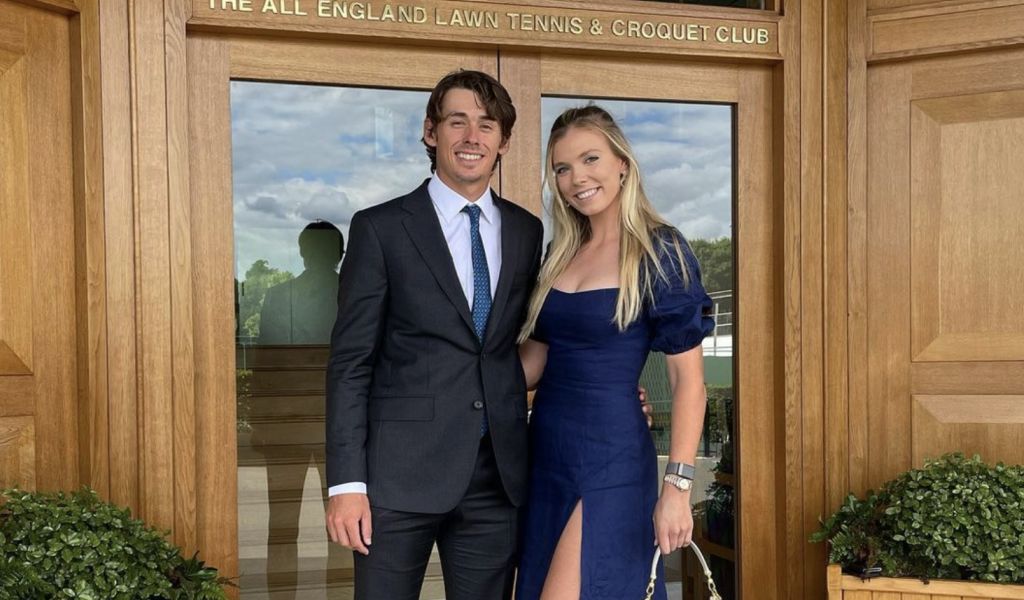 "She's amazing," said De Minaur of Boulter. "It's the beauty of us being both in the same sport. We understand each other. We know what to expect and how we can help each other in certain situations.
"Tennis is a very stressful lifestyle, as it is. It's always great to have a partner you can count on, who can help you out here and there.
"It works both ways. I'm there to help her when she needs it. We kind of know what to say in certain situations because we're in the same world, which is always good."
For her part, Boulter has suggested De Minaur has added to her happiness away from the court, with her increased media profile not affecting her focus.
"I haven't seen any of the newspapers," she said with a smile, commenting on her inflated profile.
"I have an incredible team, boyfriend and friends around me who are super level-headed and keep me grounded."
BROADY AND SILVA'S UNION
British star Liam Broady made it through to the third round at Wimbledon, cheered on all the way by his girlfriend Eden Silva.
Broady beat world No.4 Casper Ruud in a thrilling Centre Court match in the second round, with Silva capturing plenty of attention from the media cameras as she sat in the players' box.
British star Silva, 27, is a progressional tennis player currently ranked at 395 in the WTA rankings list, with her glamorous shots on Instagram helping her build a follower count in excess of 33k.
Liam has suggested his happiness off the court helped him perform at his best on it. Perhaps we'll see a mixed doubles pairing of Broady and Silva at Wimbledon next year.