Within the rooted foundation of global tennis culture, is a fond admiration for the history of British clubs. Their waiting lists are long, their members affluent and their alumni talented, but what is it about the city that makes its arsenal of private-members-clubs, so difficult to access?
The All England Lawn Tennis Club
Church Road, Wimbledon
Gaining its global notoriety for hosting the annual Wimbledon grand slam event each year, All England Club's spectator boxes often seat the derrières of A-list celebrities and members of The Royal Family. Granting honorary membership and Patronage to the Duchess of Cambridge in 2013, the royal affiliations at Wimbledon date back to 1907, with representatives from the family now presenting the sought after trophies at the men's and women's finals each year.
If you're lucky enough to make it up through the lengthy waiting list, you may look forward to brushing shoulders with the likes of fellow members Tim Henman, Andy Murray, Roger Federer, Maria Sharapova and John McEnroe.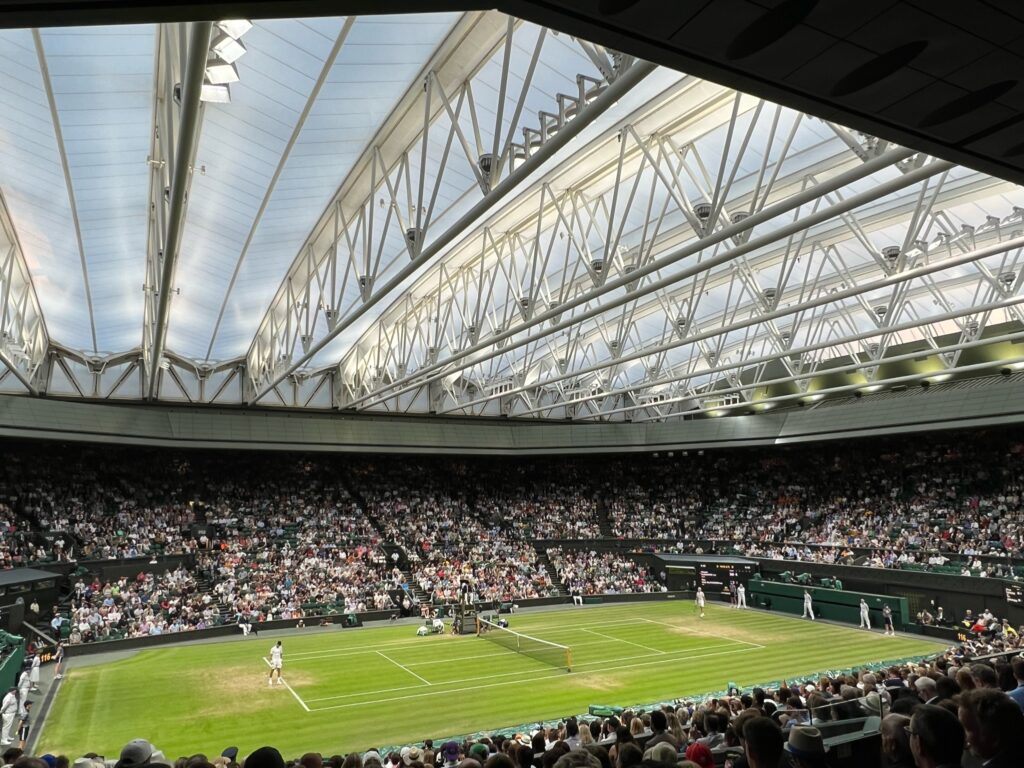 In addition to the 18 championship grass courts, the club has 20 grass practice courts and eight American clay courts. In an exciting development plan by the AECTC, 38 new grass courts are set to be built on the sprawling surrounds of the existing site, which will ultimately treble the size of club and provide a brand new 8,000 seat-stadium. This will increase the famed tournament's spectator capacity from 42,000 to 50,000.
With a waiting list exceeding over 1,000, the membership currently stands at just 565. Applicants must be proposed, seconded and supported by four existing full members, all of whom are required to write in support of the application. Sit tight though, sounds like you may stand a better chance in 2030, if development plans are successful!
The All Court Tennis Club's CEO and Founder, Adrian Calvert shares his experience playing the club: "I recently played on court 16 with Neal Skupski, no.1 doubles player, who was awarded membership following two wins in the mixed doubles tournaments! Best experience ever!'
The Queen's Club
Palliser Road, West Kensington
Acting as the stage for the annual Cinch championship, The Queen's Club holds an impressive claim of being the world's first multipurpose sports complex.
The Kensington club has a sprawling 28 outdoor lawn tennis courts, ten indoor courts, Plexi courts, an extensive gymnasium and just recently added two Padel courts into the mix.
Applicants must be proposed and seconded by two existing members who have been Queen's Club members and known the candidate for a minimum of two years. Oh, and don't forget the £15,000 price tag attached to the redeemable share members must purchase when first accepted.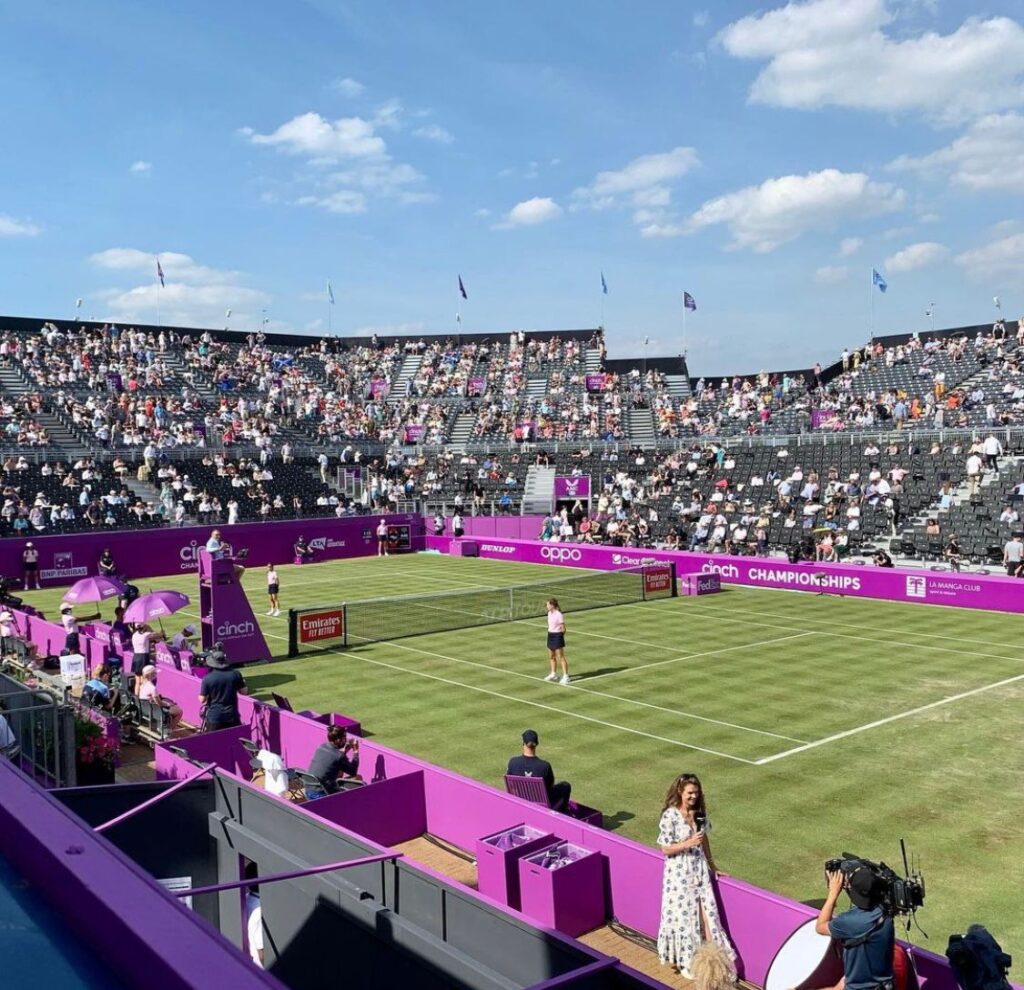 Image courtesy of @gonzaloescobars
All Court Tennis Club member and former tennis pro, Lewis Burton holds membership to The Queen's Club, and shares his insight: "I have been a member of Queens for a number of years now and I must say, other than All England Lawn, this has to be the top club in the world. I've played on hundreds of courts around the world and these two are just in a league of their own."
Holland Park Lawn Tennis Club
Addison Road, Holland Park
Tucked into the affluent and leafy surrounds of Addison Road, this club is un-assuming; barely noticeable between the rows of breath-taking period mansions that fill the street. Home to a total of eight courts, five are suitable for play year round on an artificial grass surface, with the remaining three set in grass and available to members for match play during the summer months.
The impressive clubhouse is built on the surviving wing of the mansions at 1 Addison Road, which at one time belonged to the Holland estate. Its current 850 members regularly avail of the lounge, bar, terrace and sprawling lawn space available to for social activities, BBQs or any other outdoor affair that may take their fancy!
Hopeful members can expect to wait between 12-18 months before their application stands a chance for consideration, and they must then be proposed and seconded by two existing members who have been members of the club for at least 12 months.
Nirav Moody, an All Court Tennis Club member based in Mumbai says: "I loved how the All Court Tennis Club hooked me up with one of its members from Holland Park during a recent business trip to London. I finally got to play on the king of all surfaces, grass!"
The Hurlingham Club
Ranelagh Gardens, Fulham
Situated in 42 acres of landscaped grounds adjacent to the River Thames in Fulham, The Hurlingham Club offers a diverse private members experience to its handful of successful applicants, boasting a sprawling croquet pitch, tennis lawn, swimming pool, botanical gardens and stately Georgian clubhouse.
Rumoured to be a firm favourite to the royal tots, Prince George and Princess Charlotte are said to take part in lessons at the club during their summer holidays. Royalty in his own right, three time grand slam singles champ Andy Murray is one of the lucky few to hold a membership to the exclusive club.

Image courtesy of @roseofmalaysia
Members must be proposed and seconded by two current full members of the club to get a leg in the fiercely competitive applicants race. The club is rumoured to have at one point, had a 30 year waiting list. Yep! 30.
However, the wait is now down to a much more palatable 15-20 years…
All Court Tennis Club member Néstor Osorio shares his insight as a fellow member of The Hurlingham Club: "Hurlingham is unlike any other club in the world. I love taking my tennis friends along to play the courts with me as the waiting list makes them pretty hard to access otherwise."
Campden Hill Lawn Tennis Club
Aubrey Walk, Kensington
Founded in 1884 and perched into one of West London's wealthiest postcodes, Campden Hill Lawn is thought to be one of the earliest founded clubs for the sole purpose of play on lawn courts.
This club is home to 12 courts overall, six indoor and six outdoor, as well as a members lounge and clubhouse. Privately owned and hosting a 1,600-strong membership, there is plenty of space for mingling and match play among the West-London tennis set.
Hopeful members can expect to wait between 3 to 5 years before potentially taking up a spot at the club. They must also be proposed and seconded by two existing members.
Chairman of both the Virgin Group and the All Court Tennis Club, Peter Norris regularly plays here with the CEO of the latter, Adrian Calvert, along with a few notable ex-prime-ministers and chancellors.
Harbour Club Chelsea
Watermeadow Lane, Chelsea
Together with its 12 state-of-the-art indoor tennis courts, Harbour Club Chelsea offers its members access to three Padel courts, six fitness studios, a gymnasium, three deluxe swimming pools and nine spa treatment rooms.
A premium membership by all accounts, Harbour Club Chelsea was one of London's original high-end luxury health and fitness clubs when established in 1992. It also featured as the backdrop in the legendary Princess Diana gym paparazzi shots that flooded the front covers of magazines throughout the early 90's.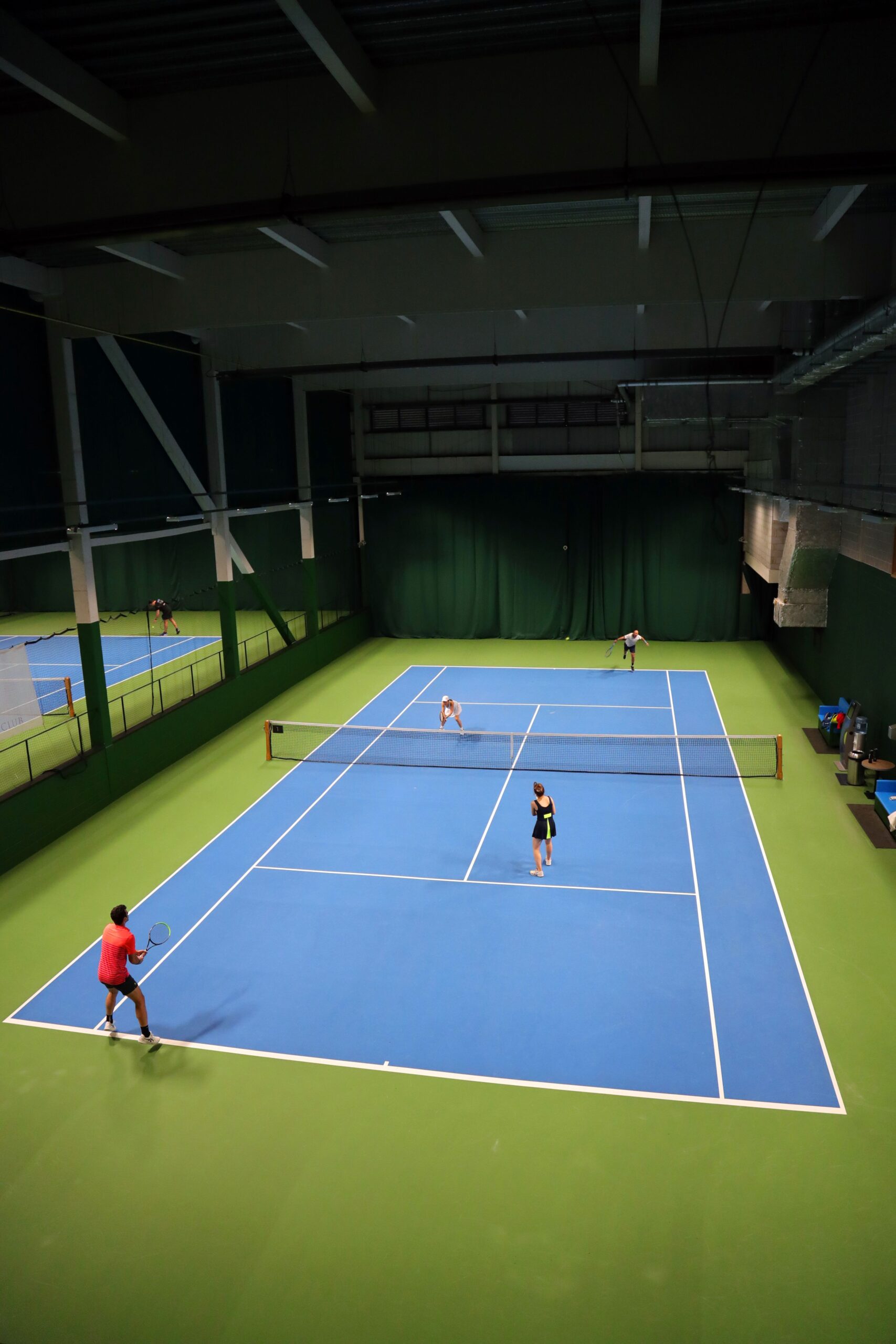 Unlike the aforementioned clubs, no waiting list currently exists, however, annual fees and joining cost certainly set it aside from your every-day amateur club.
The club was also the chosen destination for the All Court Tennis Club's inaugural London Invitational Team Trophy. The event made its debut in March of this year and is set for return during this upcoming tennis season. The 2022 champions were awarded an enviable luxury short stay at The Melengran Hotel, the hippest boutique hotel on the Croatian coastline.
The Parsons Green Sports & Social Club
Broomhouse Lane, Fulham
Just a stone's throw from The Hurlingham Club, Fulham residents with a portion of their income set aside for swanky private members clubs, are spoiled for choice on the nearby selection of private courts. The Parsons Green Club houses six floodlit tennis courts, two squash courts, a bowling green, croquet lawn and snooker room.
Undergoing a major re-development in 2014, the club re-opened in 2019, to show off its impressive upgrade. The club's history spans 100 years and succeeds in commanding a certain charm over its West London surroundings.
One member of the All Court Tennis Club who shares her membership at Parsons Green, says: "I was on holiday with my family in France during the summer and have always wanted to play at Puento Romano. The All Court Tennis Club put me in touch with one of the club's members and we arranged a fantastic session. When she was in London last month I took her to Parsons Green to return the favour, she loved it!"
All Court Tennis Club membership provides unrivalled access to tennis venues, training, tournaments and socials across the globe. To find out more about how to apply, click here.