In 1923, French Davis Cup player Rene Lacoste was admiring a crocodile leather suitcase when his coach, Allan Muhr, told him that if he won his next match, he would buy Lacoste the case. Lacoste lost, but the nickname "crocodile" stuck. Lacoste asked his friend, Robert George, to create a crocodile patch so he could sew them onto the white jackets Lacoste wore on various courts around the world. Soon, Lacoste affixed an alligator to a smaller, lose-fitting cotton shirt and voila, tennis changed the fashion world.
Since that time, however, many a designer (and tennis player) has endeavoured to make their mark on the clothing industry, if not in the annals of tennis history. Ted Tinling, a lapsed player who designed dresses for almost all of the great female players throughout the 1950s, 1960s and 1970s, is probably at the top of the list, but you can't count out Tory Burch, who played as a kid, or Venus Williams' EleVen brand. Even Ralph Lauren and Hugo Boss have stepped into the tennis trade.
2021 was the year of the vintage reboot (Fila, Sergio Tacchini, Ellesse and Diadora) while 2022 saw a number of fashion start-ups (Jelena Ostapenko in Latvian brand DK One and Camila Giorgi in GioMila), but 2023 so far has been a mix of shifting loyalties, running-shoe-turned-tennis brands and the designer-player pairings (think Virgil Abloh for Nike).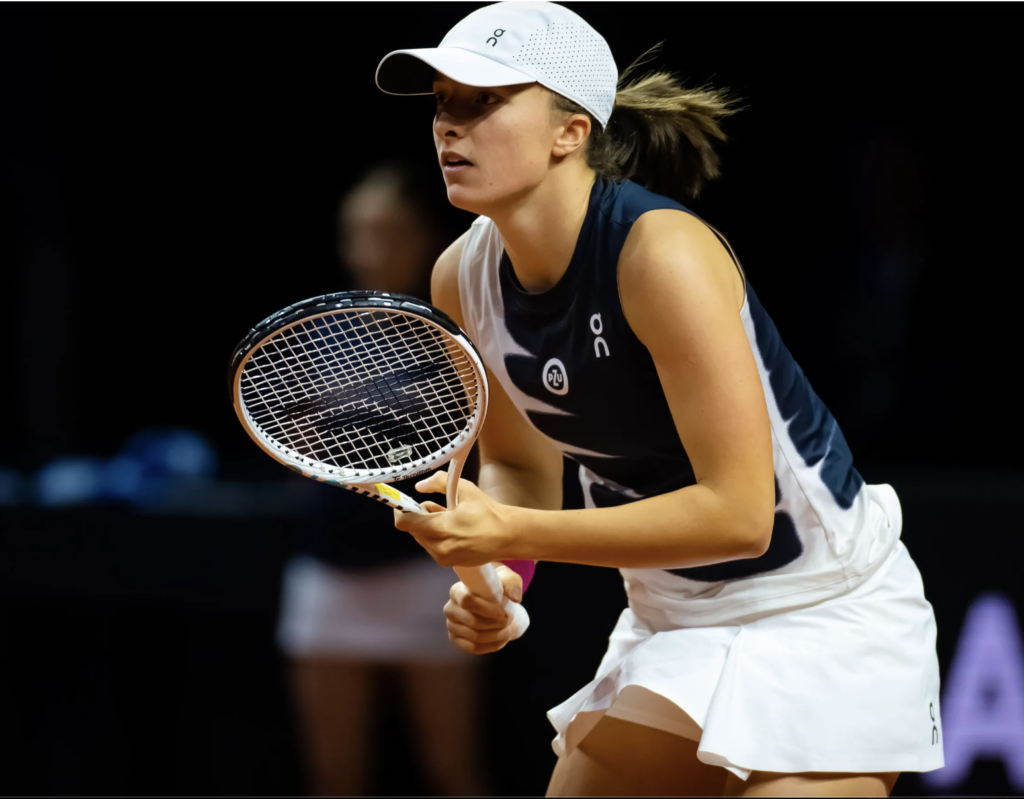 IGA dons On Running:
In probably the biggest switch since Federer left Nike, Iga Świątek traded one running company for another — Japanese-based ASICS for Swiss-and-Roger-Federer-backed On Running —announcing in mid-March that she would become the On Running girl. Not only the clothes, but also the shoes. Although the current WTA No. 1, will keep the Asics firmly on her feet until the On shoes are finalised. But where does On come from, exactly? Founded in the late 2010s in Zurich, On Running has made it their mission "to make high-performance products with the lowest possible footprint." It's other claim to fame: innovative CloudTec design that promises athletes the feeling of "running on clouds." Created by a three-time world duathlon champion who built his first shoe with hose pipe under another shoe's sole for propulsion, On Running has also promised Iga quick-drying polyester and "recycled polyamide" based shorts and shirts, as well as "supplier transparent" performance shirts and warm-up suits. What does she have to say about her new kit? Well, mostly that the ultimate tennis fashionista convinced her. "I think also (Roger) influenced a lot on their side, so that's why they want to go further and they want to sign players… I feel like we share the same values," Iga said in a press conference around the Miami Open. "I feel like they're treating me first like a person and not mainly as a machine to win." And it seems the company is willing to share logo space with Iga's other sponsor, Poland's biggest insurance company, PZU.
Sofia Kenin sports FreePeople:
In maybe one of the stranger pairings of late, Sofia Kennin, who came and went in seemingly a blink, announced a two-year sponsorship deal to bring FP Movement — Free People's activewear line — into the tennis world. For those unfamiliar with Free People, it's possibly a brand more associated with Bohemian types than sports people. But Sofia wants to  build a bridge. "I love that new and innovative brands like FP Movement are entering our sport and feel honored that they have selected me to represent their brand," she said. So far, the Kenin line includes flowing, feminine tennis dresses, jackets with sleeves adorned with the word "Movement" and midrift freeing crop tops and skirts. And if the tennis career doesn't work out, Kenin claims: "I'd love to do something in fashion — not a fashion designer because I can't really draw — but maybe a stylist…" Right now, that career seems closer, with Kenin absent from the top-100 for two years now.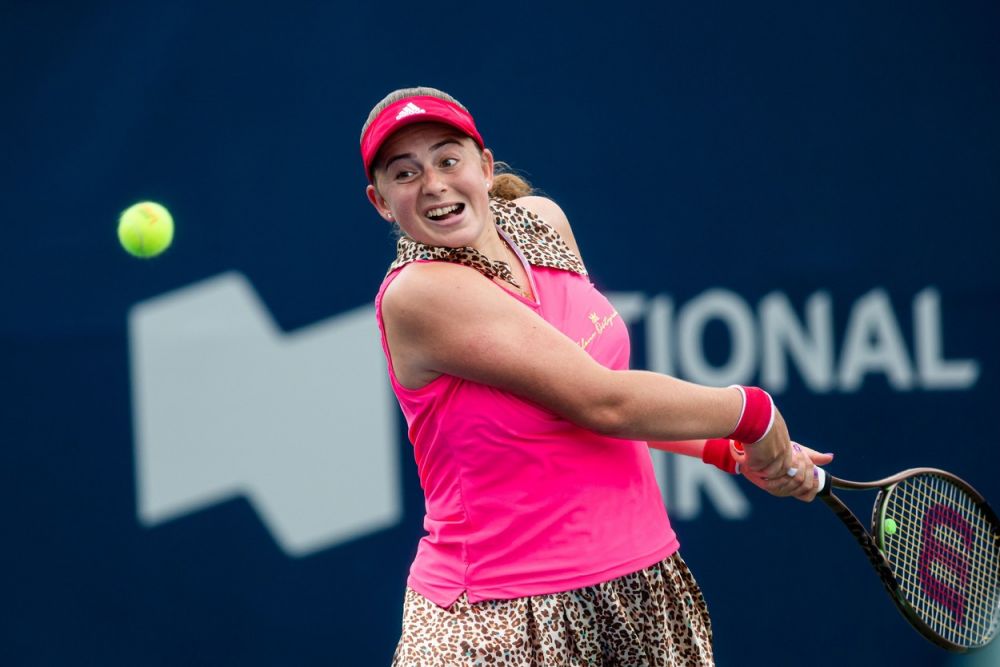 DKOne for Jelena Ostapenko:
In 2022, Jelena Ostapenko ditched plain ol' Adidas for frills and colourful patterns in a throwback that some may call more disco than dynamic. Prior to the pandemic and thinking about her future post-tennis, Ostapenko partnered with Daniela K., another Latvian tennis player, and came up with DKOne, the embodiment of "comfort, originality and quality." However, she quickly found out that there was no such thing as fast fashion: "It all looks very easy, but when you start going through all the steps — Oh, my God!" Ostapenko told the WTA news site. "First you have to do the patterns and the shapes. Then there is the fabric. Then you can do the design. The colours come last." The Latvian known for her expressive faces and her cut-to-the-chase demeanour appeared at the 2022 Australian Open donning a baby blue top and fluorescent yellow shorts. And don't expect any tonal colours in the future, either. "Bright colours are my favourite," Ostapenko said. "The neon pink, the neon yellow, the neon green. The blue, too."
Lululemon Signs Leylah Fernandez:
Ubiquitous in yoga studios all over New York for years now — by men and women, alike — Lululemon has made its way onto tennis courts by those who don't want to be seen as "hardcore tennis players." But now the brand has firmly embraced their presence on the big stages through Canadian Leylah Fernandez. "I have always wanted to be original, different from the tennis players and be my own unique person," Fernandez has said.  "When I heard Lululemon wanted to get on the big stage in tennis, I thought it was a great opportunity for me." Lululemon put Fernandez in the brand's core products for the season's debut, but under Fernandez, its first global tennis ambassador, Lululemon will launch its first tennis-specific capsule collection for both women and men any day now. Like Kenin, Fernandez too wants to have more of her "outgoing personality" in her clothing designs. ""I want to have everything perfect so when I am on the court, I don't think about anything," Fernandez says. "I am always wearing stuff I am comfortable with that makes me feel invincible, so when I'm playing tennis, I just need to focus on tennis." And although still in Asics footwear, she too, will put on the company's exclusive shoe line come summer. "I know for a fact I will continue wearing Lululemon 24-7, which is what I am doing right now," she says.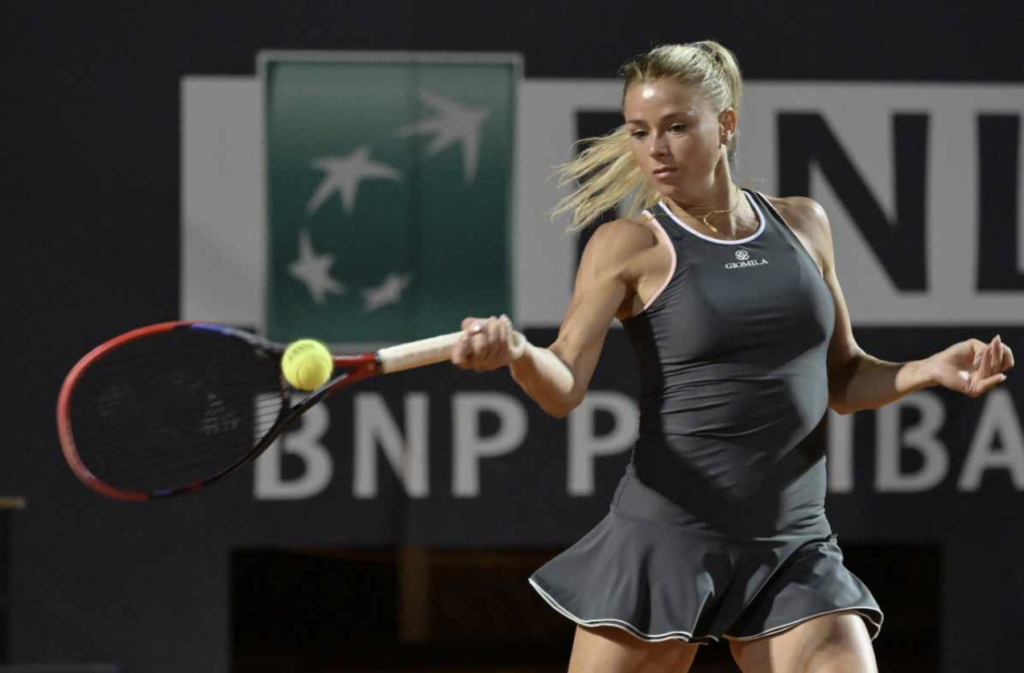 Giomila by Camilia Giorgi's mother:
The top female player in Italy and a consistent presence in the women's Top 30s, Camilia Giorgi might be described as a bit of a wallflower if not for her often unique, frequently revealing, tennis outfits designed by her mother, Claudia. Known to be one of the hardest hitters on tour, lately, neither Giorgi nor her dresses can catch a break. At the French Open, an official debated with her over the size of the DeLonghi logo on her dress, while others at the U.S. Open and other majors have complained about her plunging necklines and high hemlines. Giorgi dismissed her critics. "When I'm in the court, in the tournament, (I'm) very focused. I do my physical, everything. When I go home, there is other things in life, too," Giorgi explained. In her spare time, Giorgi models lingerie.
Castore x Andy Murray:
Before Andy Murray retired, lost Under Armour as his sponsor, and gained a metal hip, very few Brits — or anyone else — had ever heard of J.Carter Sporting Club Limited (aka Castore) a Manchester-based sports performance clothing company. Within two years of Murray's investment in the company and the launch of the AMC line, those double wings are everywhere — from the walls of the LTA's South London headquarters to the football uniforms of the Wolverhampton Wanderers, Aston Villa and McLaren Racing. Billed as "Better Never Stops" (the same could be said of Murray), Castore's founders Thomas and Philip Beahon worked as financial analysts in London while they sought investors for their brand, initially aimed for golfers and cricketers. And although he is no longer British No. 1, Sir Andy's endorsement seems to have carried the brand to 50 countries and 12 sports, including the Team Bahrain Victorious cycling squad. Up next: pushing out Ralph Lauren as the official sponsor of Wimbledon.